Morning News Digest: July 15, 2013
By Matt Arco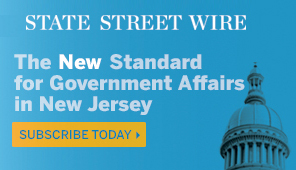 Winners and Losers: Week of July 8th
It seems a cruel twist of fate that our one escape from the cloakrooms of politics has now become that absolute destination for Sandy-concerned politicians seeking to impart a sense of command to the scantily clad mishmash of humanity on the boardwalks and beaches of New Jersey.
But that's all right.
We've always loved the texture here, and if navigating those seaside delights must include the occasional familiar tramping vision of vote procurement, so much the better.
Everything washes in with the tide.
See you at the beach!!
http://www.politickernj.com/67167/winners-and-losers-week-july-8th
Messenger to be new Assembly Dem ED
The Assembly majority promoted Mary Messenger to fill its vacant executive director position.
http://www.politickernj.com/67175/messenger-be-new-assembly-dem-ed
Calling for solutions, not bipartisan photo-ops, Holt zings Booker in mailer
U.S. Rep. Rush Holt (D-12) hit mailboxes with his first barrage of fliers today at his chief competitor's ground zero.
"Rush Holt believes we need more than bipartisan photo-ops," proclaims the mailer, which voters received in Newark, home to Mayor Cory Booker. "We need fact-based solutions." (Pizarro/PolitickerNJ)
http://www.politickernj.com/67177/calling-solutions-not-bipartisan-photo-ops-holt-zings-booker-mailer
National Democrats spending little on Barbara Buono's gubernatorial challenge
The Democratic Governors Association has raised $15 million in six months, but has so far spent very little on New Jersey — one of only two gubernatorial races this year.
Vermont Gov. Peter Shumlin, chairman of the association, announced the fundraising total Friday, saying it represents a 30 percent increase over the same period in 2009, the last time New Jersey and Virginia had gubernatorial races. (Hayes/The Record)
http://www.northjersey.com/news/National_Democrats_spending_little_on_Barbara_Buonos_gubernatorial_challenge.html
Federal judge blocks N.J. human trafficking law targeting underage sex advertisements
A new state law intended to root out online advertisements for underage sex has been blocked by a federal judge, fueling a growing national debate over whether internet companies should be forced to police what users post.
The law — signed by Gov. Chris Christie in May and slated to go into effect at the beginning of this month — is part of a crackdown on human trafficking. It makes it a first-degree crime to knowingly publish, disseminate or display an advertisement and any photographs promoting sex with a minor. (Baxter/Star-Ledger)
http://www.nj.com/politics/index.ssf/2013/07/nj_human_trafficking_law_targeting_underage_sex_ads_blocked_by_federal_court_judge.html#incart_river
ACLU, other groups want N.J. to limit use of solitary confinement for juveniles
The American Civil Liberties Union and a coalition of religious, social services and children's groups today will ask New Jersey to ban using solitary confinement as punishment for juveniles in state and county detention facilities.
The state allows for juvenile offenders to be locked away in their rooms for up to five straight days as disciplinary punishment. Corrections officials in the United States have said it's a needed tool. (Hutchins/Star-Ledger)
Sheila Oliver chides Cory Booker in fundraising letter
Assembly Speaker Sheila Oliver is the latest U.S. Senate hopeful to train her guns on the frontrunner, Newark Mayor Cory Booker, as four candidates race toward the August 13 primary for the Democratic nomination to succeed Sen. Frank Lautenberg.
Oliver (D-Essex) has lagged behind fellow contenders Rep. Frank Pallone (D-6th Dist.) and Rep. Rush Holt (D-12th Dist.) in getting her name out in the race, since she and the others declared last month they would run for the seat after Lautenberg's death. (Giambusso/Star-Ledger)
http://www.nj.com/essex/index.ssf/2013/07/sheila_oliver_chides_cory_booker_in_fundraising_letter.html#incart_river
Frank Pallone a 'tireless campaigner' in one of his toughest battles yet
Frank Pallone won his first election in the fourth grade.
"The teacher said we were going to have an election," he said recently. "I got all excited and I ran and I won." (Giambusso/Star-Ledger)
http://www.nj.com/politics/index.ssf/2013/07/frank_pallone_a_tireless_campaigner_in_one_of_his_toughest_battles_yet_for_us_senate.html#incart_river
CNBC ranking: New Jersey one of the most expensive states for businesses
The cost of doing business in New Jersey has risen in recent years, and for that reason, its ranking in a CNBC analysis of states with business-friendly laws and regulations has gone down. Again.
In 2010 and 2011, New Jersey finished 30th in the nationwide ranking, which identifies states with low corporate income tax rates and attractive incentives for businesses looking to relocate, among other criteria. (Calefati/Star-Ledger)
http://www.nj.com/politics/index.ssf/2013/07/cnbc_ranking_new_jersey_one_of_the_worst_states_for_businesses.html#incart_river
NJ Senate candidates remain in Booker's shadow
he three lesser-known Democrats seeking New Jersey's open U.S. Senate seat are in a race against time to overcome Cory Booker's lead.
The Newark mayor has been the dominant force, with congressmen Frank Pallone and Rush Holt and Assembly Speaker Sheila Oliver so far unable to break from the pack. (AP)
http://www.app.com/viewart/20130713/NJNEWS1002/307130036/NJ-Senate-candidates-remain-Booker-s-shadow
Former gov hired by Jersey City mayor
Former New Jersey Governor Jim McGreevey has been hired by the new mayor of Jersey City.
Mayor Steve Fulop announced Friday that McGreevey will run a city commission dedicated to job creation and training. (AP)
http://www.app.com/viewart/20130713/NJNEWS11/307130014/Former-gov-hired-by-Jersey-City-mayor
Buono dials number, Republican answers, amusement ensues
John Traier was in his office earlier this week when he got a call from Barbara Buono, the Democratic state senator running against Republican Gov. Christie. She thanked him for his $250 donation and asked if he'd be able to cut another check for $250.
But Traier never gave $250 to Buono — and he wasn't about to now. (Katz/Inquirer)
http://www.philly.com/philly/blogs/christie_chronicles/Buono-dials-a-wrong-number.html
Buono hopes to use abortion rights against Christie
TRENTON – Texas State Sen. Wendy Davis was filibustering an antiabortion bill on the floor of that state's legislature last month when her counterpart in New Jersey called her office.
Barbara Buono, a Democratic state senator running against Republican Gov. Christie, tweeted a picture of herself calling Davis' office to send a message that she was "proud of her stand for women." (Katz/Inquirer)
http://www.philly.com/philly/news/new_jersey/20130714_Buono_hopes_to_use_abortion_rights_against_Christie.html
Vocal lawmaker's crusade against N.J.'s school-funding formula
TRENTON – Mike Doherty is a firebrand conservative who is on a mission to reform the state's school tax structure. The Republican state senator from rural Warren County in northwest New Jersey doesn't mind at all being politically incorrect. (Mondics/Inquirer)
http://www.philly.com/philly/news/new_jersey/20130714_Vocal_lawmaker_s_crusade_against_N_J__s_school-funding_formula.html
No Lack of Controversy at First Meeting of Rutgers' Board of Governors
Only two weeks after celebrating its official merger with what was once the state's premier medical school — the University of Medicine and Dentistry of New Jersey — Rutgers once again found itself debating about how it would be run and dealing with various controversies at its first regular July meeting. (Nurin/NJSpotlight)
http://www.njspotlight.com/stories/13/07/12/no-lack-of-controversy-at-first-meeting-of-rutgers-board-of-governors/
At State DEP, Investigations Climb But Number of Enforcement Actions Falls
The state has stepped up inspections for potential violations of environmental laws, but the number of enforcement actions has fallen by more than half since 2008, according to records of the New Jersey Department of Environmental Protection.
In the state's fiscal year 2012, there were 13,555 enforcement actions taken by the agency, a steep drop-off from the 29,570 violations cited by the agency four years earlier. (Johnson/NJSpotlight)
http://www.njspotlight.com/stories/13/07/11/at-state-dep-investigations-climb-but-number-of-enforcement-actions-falls/
Student Growth Objectives: The Other Teacher Evaluation Tool
Evaluating New Jersey public school teachers using student test scores has gotten most of the political — and parental — attention. But where does that leave the majority of educators, who don't teach subjects evaluated by state exams, like language arts and math? (Mooney/NJSpotlight)
http://www.njspotlight.com/stories/13/07/11/student-growth-objectives-the-other-teacher-evaluation-tool/
Opinion
Logic on dissenter's side in COAH case
President Bill Clinton isn't the only one who can quibble over the meaning of two-letter words.
The man who parsed the word "is" has nothing on the New Jersey Supreme Court. (Schoonejongen/APP)
http://www.app.com/article/20130713/NJCOLUMNIST25/307130003/Logic-dissenter-s-side-COAH-case?nclick_check=1
N.J. 'civil union' author: Time to allow gay marriage: Opinion
In 2006, the New Jersey Supreme Court determined that our equal protection laws mandated that gay and lesbian relationships were to be given the same rights and privileges as those of heterosexuals. The court concluded we are not free to discriminate on the basis of the relationship. (Star-Ledger)
http://blog.nj.com/njv_guest_blog/2013/07/nj_civil_union_author_time_to.html#incart_river
Moran: Barbara Buono's vision for the next four years
Barbara Buono wants to increase the minimum wage, and restore the tax credits that Gov. Chris Christie took from working poor families.
She wants to hike taxes on the richest of the rich, so that she can increase aid to public schools. (Moran/Star-Ledger)
http://blog.nj.com/njv_tom_moran/2013/07/moran_barbara_buonos_vision_fo.html