Morning News Digest: July 16, 2013
By Matt Arco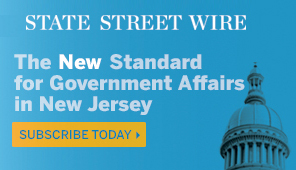 Spring Lake's Democratic mayor endorses Christie
Gov. Chris Christie snagged the endorsement of another Democratic mayor in the state Monday.
Spring Lake Mayor Jennifer Naughton and three other elected Democrats endorsed the Republican governor in his bid for re-election. Naughton is the 14th Democratic mayor to endorse Christie. (Arco/PolitickerNJ)
http://www.politickernj.com/67193/spring-lake-mayor-endorses-christie
Doherty decries accident figures being used to support bridge project
TRENTON – A state lawmaker and outspoken critic of a proposal to spend about a third of a billion dollars for the construction of a new Interstate 95 bridge just north of Trenton is accusing proponents of the project of "monkeying around" with accident figures.
Sen. Michael Doherty, (R-23), says crash statistics used in part to argue for the need of the Delaware River Joint Toll Bridge Commission's $328 million bridge replacement are being exaggerated. He argues the annual crash figures cited by the commission fall significantly short of data kept by the New Jersey Department of Transportation. (Arco/PolitickerNJ)
http://www.politickernj.com/67192/doherty-decries-accident-figures-being-used-support-bridge-project
Pallone: 'Let the other guys take the limo'
TRENTON – U.S. Senate hopeful Rep. Frank Pallone rolled out a new web ad Monday showcasing his working class roots. (PolitickerNJ)
http://www.politickernj.com/67187/pallone-let-other-guys-take-limo
Local Finance Board defers Middlesex application, raises questions over Pucci compensation

TRENTON – A $19.5 million Middlesex County Improvement Authority application before the Local Finance Board was deferred Monday following a heated exchange between Board Chairman Thomas Neff and Richard Pucci, Authority executive director.
Neff told Middlesex officials the board would defer voting on the application for bonding for capital improvements over questions about fees for the authority and issues related to last year's Comptroller's report that was critical of the authority and Pucci's salary. (Mooney/PolitickerNJ)
http://www.politickernj.com/67185/local-finance-board-defers-middlesex-application-raises-questions-over-pucci-compensation
Christie to appear as himself on Michael J. Fox NBC sitcom
TRENTON — Gov. Chris Christie has appeared many times on late-night TV, including "Saturday Night Live." Now he has scored his first gig on a sitcom.
His office on Monday confirmed a report in The Huffington Post that the Republican governor will appear as himself on an episode this fall of the new NBC comedy "The Michael J. Fox Show." (AP)
http://www.northjersey.com/arts_entertainment/Christie_to_appear_as_himself_on_NBC_sitcom.html
Little Ferry, Moonachie schools to share in Sandy fund donation from United Arab Emirates
Three public schools in Little Ferry and Moonachie will get a piece of a $4.5 million donation from the United Arab Emirates to upgrade technology in districts hit by superstorm Sandy.
The donation to the Hurricane Sandy New Jersey Relief Fund is the foreign country's first step in fulfilling a commitment made to Governor Christie after the storm to donate $5 million. The United Arab Emirates also pledged $5 million to New York. (Hayes & Brody/The Record)
http://www.northjersey.com/littleferry/Little_Ferry_Moonachie_schools_to_share_in_Sandy_fund_donation_from_United_Arab_Emirates.html
Democratic Senate candidate Holt wants to overhaul post-9/11 surveillance
Rep. Rush Holt, one of four Democrats running for New Jersey's U.S. Senate seat, said he wants to repeal America's post-9/11 security apparatus and start over with a focus on protecting the innocent from government surveillance.
"Industrial-scale, vacuum-cleaner surveillance does not make us safer," said Holt, who has sat on two intelligence committees in the House. (Linhorst & Jackson/The Record)
http://www.northjersey.com/news/Democratic_Senate_candidate_Holt_wants_to_overhaul_post-911_surveillance.html
U.S. Senate candidates in N.J. report campaign fundraising
Repblican Senate candidate Steve Lonegan loaned his campaign $100,000 last month and raised another $93,000 while spending just $900, his campaign disclosed Monday.
Lonegan is vying against physician Alieta Eck of Somerset for the Republican nomination to fill the unexpired term of Sen. Frank Lautenberg, who died June 3. (Jackson/The Record)
http://www.northjersey.com/news/US_Senate_candidates_in_NJ_report_campaign_fundraising.html
GOP Senate candidate Lonegan pushes for more private investment in transportation projects
Steve Lonegan, the bombastic former mayor of Bogota who is running in the Republican primary for U.S. Senate, said he wants the private sector to play a bigger role funding future transportation projects, including a new rail tunnel under the Hudson River.
Roads and mass transit are two of many areas in which the government should take a more limited role, Lonegan said. (Linhorst & Jackson/The Record)
http://www.northjersey.com/bogota/GOP_US_Senate_candidate_Lonegan_pushes_for_more_private_investment_in_transportation_projects.html
Buono expected to name running mate soon
Democratic gubernatorial candidate Barbara Buono is deciding who her running mate will be.
The Metuchen senator is expected to announce her choice this week. (AP)
http://www.app.com/viewart/20130715/NJNEWS1002/307150013/Buono-expected-name-running-mate-soon
Buono struggles to match Christie's money-making star power
Democratic gubernatorial challenger Barbara Buono has yet to raise enough money to qualify for public matching funds in the general election, underscoring her struggles to match Gov. Chris Christie's money-making star power.
To qualify for public financing, Buono, a state senator from Middlesex County, must first raise $380,000 on her own. She has yet to hit the benchmark since winning the June 4 Democratic Primary, but campaign officials said that will change. (Renshaw/Star-Ledger)
http://www.nj.com/politics/index.ssf/2013/07/buono_struggles_to_match_christies_money-making_star_power.html#incart_river
Christie administration delays bond plan by Middlesex County Improvement Authority
Gov. Chris Christie's administration slammed the brakes today on a $19.5 million borrowing plan drafted by the Middlesex County Improvement Authority, citing concerns that some of the money would end up padding the salaries of public officials.
Christie over the last year has sharply criticized the authority and its Democratic executive director, Richard Pucci, who is also the mayor of Monroe Township. (Rizzo/Star-Ledger)
http://www.nj.com/politics/index.ssf/2013/07/christie_administration_delays_bond_plan_by_middlesex_county_improvement_authority.html#incart_river
Lonegan has almost $200k to spend in U.S. Senate campaign
Conservative activist Steve Lonegan has almost $200,000 to spend in his race for U.S. Senate, and more than half of it comes from his own pocket.
Lonegan's only opponent in the Republican primary, Dr. Alieta Eck, has raised just a fraction of that amount, at $29,000. (Friedman/Star-Ledger)
http://www.nj.com/politics/index.ssf/2013/07/lonegan_raises_92k_for_us_senate_campaign.html#incart_river
Menendez announces bill that would provide resources for adults with special needs
U.S. Sen. Robert Menendez on Monday announced new legislation that would look to answer a question the families of those with special needs know all too well: What happens when they age out of the education system?
Standing alongside advocates from Autism Speaks, Menendez pushed a measure called the Assistance in Gaining Experience, Independence and Navigation (AGE-IN) act, which would allocate resources toward the development of a training program that would help young adults with special needs transition into adulthood. (Sullivan/NJ.com)
http://www.nj.com/bergen/index.ssf/2013/07/menendez_announces_bill_that_would_provide_resources_for_adults_with_special_needs.html#incart_river
Revel, still struggling, will lay off 75 senior-management staffers

Revel announced another round of layoffs Monday amid still-slumping gambling revenue at the struggling Atlantic City casino.
This time, 75 salaried positions, all at the senior-management level, will be eliminated. The cuts represent 2 percent of Revel's workforce of about 3,500 and include no front-line casino employees. (Parmley/Inquirer)
http://www.philly.com/philly/news/new_jersey/20130716_Revel__still_struggling__will_lay_off_75_senior-management_staffers_.html
What happens when Sandy damaged half a duplex?
OCEAN CITY – In this, the land of the summer duplex, someone is always on top, someone on the bottom. Works out pretty evenly.
But when floodwaters from Hurricane Sandy rush down, say, 28th Street, then turn the corner onto West Avenue, leaving the property known as 2752-54 West Ave. with four feet of water, it's going to be the bottom that gets deluged. (Rosenberg/Inquirer)
http://www.philly.com/philly/news/new_jersey/20130715_What_happens_when_Sandy_damaged_half_a_duplex_.html
Democrat Buono unveils NJ economic plan
TRENTON, N.J. (AP) – Democratic gubernatorial candidate Barbara Buono has unveiled her economic plan for the state, and it contrasts sharply with Gov. Chris Christie's policies.
Buono's plan, unveiled early Monday, focuses on shoring up the middle class. It provides tax breaks to small businesses, pledges to make higher education more affordable and restores safety net cuts made by Christie during his first term. (Delli Santi/AP)
http://www.philly.com/philly/news/politics/20130715_ap_860fb6df8d604e10a46455c5ef23f6a4.html
Buono: Running Without Backing of Old-Boys Network
Christine Todd Whitman knows what it's like to be Barbara Buono.
Like the Democratic candidate for governor, Whitman knows what it's like to be way down in the polls, to have shaky support from a Senate president of her own party, and to have the national party hold back the money you need for TV ads because it looks like you aren't going to win. (Magyar/NJSpotlight)
http://www.njspotlight.com/stories/13/07/14/buono-running-without-backing-of-old-boys-network/
From the Back Room
What's $5 million among friends?
U.S Senate candidate Cory Booker has amended his personal wealth report to add an additional $1 million to $5 million that, according to a report, was inadvertantly left off his initial disclosure. (PolitickerNJ)
http://www.politickernj.com/back_room/whats-5-million-among-friends
Opinion
Angry over Trayvon and the Zimmerman verdict? Protest our gun laws: Editorial
Most of the outrage over George Zimmerman's acquittal in the shooting of an unarmed black teenager has focused on racial profiling. But remember, we're talking about the actions of a lone vigilante, not a police force that could be revamped or retrained.
So the more practical message, the one with a concrete solution, is the need to keep the average Joe from anointing himself a law enforcement officer. (Star-Ledger)
http://blog.nj.com/njv_editorial_page/2013/07/angry_over_treyvon_protest_our.html
Doblin: Christie's choice: Yosemite Sam or Teddy Roosevelt
THE ROAD to heaven is paved with good intentions. The road to the Oval Office is paved with something less altruistic. There is nothing heavenly about tar.
Governor Christie may want to make the journey from the State House to the White House, but if his comments about the state Supreme Court were more than the hyperbolic rhetoric of an angry governor, Chris Christie may one day be known as President Macadam. (Doblin/The Record)
http://www.northjersey.com/news/opinions/215473051_Doblin__Christie_s_choice__Yosemite_Sam_or_Teddy_Roosevelt.html