Morning News Digest: July 18, 2013
By Matt Arco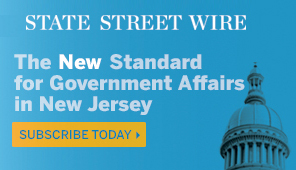 Comptroller uncovers widespread abuse of school lunch program
TRENTON – More than 100 people – including 83 public employees – gave false information about income on applications for free lunches submitted to school districts.
That is the finding of a Comptroller's investigation announced Wednesday involving 15 school districts over a three-year period that uncovered widespread fraud. (PolitickerNJ)
http://www.politickernj.com/67232/comptroller-uncovers-widespread-abuse-school-lunch-program
Hurley elected to broadcasters hall of fame
South Jersey radio broadcaster Harry Hurley has been elected to the Broadcast Pioneers of Philadelphia Hall of Fame.
Hurley, who hosts "Hurley in the Morning" on WPG Talk Radio 1450, will be inducted into the hall in November. (Isherwood/PolitickerNJ)
http://www.politickernj.com/67252/hurley-elected-broadcasters-hall-fame
With a host of Democrats behind him, Christie is now seeking the support of some Republicans
Up until now it's been tough to tell which of the two gubernatorial candidates was the Democrat, at least based on the endorsements received.
Gov. Chris Christie has spent the spring and early summer rolling out a conga line of Democratic mayors and other assorted elected officials who support him, and he has gained unprecedented support from the state's trade unions. (Isherwood/PolitickerNJ)
http://www.politickernj.com/67249/christie-seeking-support-actual-republicans
Christie: Cheers for Rivera, support for whoever wins GOP primary
TOMS RIVER – Gov. Chris Christie stopped by this Southern New Jersey town Wednesday to announce $28 million in federal money to help with essential police services, but found time to comment on the Senate primary and an All-Star pitcher.
Christie, when asked if he would endorse Steve Lonegan if he wins the GOP U.S. Senate primary next month, said he would endorse whichever candidate wins, whether it is Lonegan or Dr. Alieta Eck. (Mooney/PolitickerNJ)
http://www.politickernj.com/67248/christie-cheers-rivera-support-whoever-wins-gop-primary
Lunch program abuse findings show need to change funding formula, Christie says
TOMS RIVER – Gov. Chris Christie said the larger message to be taken from today's Comptroller's report that found widespread fraud in the school lunch program is the need to change the state aid funding formula.
The Comptroller's office disclosed more than 100 people – whose names have been turned over for possible criminal prosecution – who falsely listed income levels in order to get approved for a lunch program that is supposed to help those children most in need. (Mooney/PolitickerNJ)
http://www.politickernj.com/67247/lunch-program-abuse-findings-show-need-change-funding-formula-christie-says
Boxer: Improved oversight essential for school lunch program
TRENTON – After referring some 109 public employees and relatives for prosecution after finding that they fraudulently reported their incomes in order to gain free lunch eligibility for their kids, Comptroller Matthew Boxer made a series of recommendations Wednesday to prevent future fraud.
"What we learned in this investigation is because of the way this program is structured, there is minimal oversight resulting in people frequently lying on program applications on income amounts," he said. (Hassan/PolitickerNJ)
http://www.politickernj.com/67239/boxer-improved-oversight-essential-school-lunch-program
Former Bergen County Prosecutor John J. Fahy fatally shoots himself along Route 17 in East Rutherford, authorities say
Former Bergen County Prosecutor John J. Fahy, a prominent attorney who has made frequent television appearances as a legal analyst, apparently shot himself to death with a handgun Wednesday on a sidewalk along Route 17 south in East Rutherford after walking there from his Rutherford home, authorities said.
His body was found under an NJ Transit railroad trestle around 5 p.m. by two boys who were walking in the area, said Bergen County Prosecutor John L. Molinelli. The death of Fahy, 58, who also served as an assistant U.S. attorney, shocked politicians and law enforcement officials who knew him. (Koloff, Maag & Norman/The Record)
http://www.northjersey.com/eastrutherford/Route_17_closed_in_East_Rutherford_for_police_investigation.html
Christie to endorse Republican nominee for Senate
TOMS RIVER — Gov. Chris Christie says he anticipates endorsing the Republican candidate in the special U.S. Senate election being staged in October.
Christie said Wednesday that he will support either Republican who wins an Aug. 13 primary. The GOP race is between former Bogota Mayor Steve Lonegan and Piscataway physician Alieta Eck. (AP)
Toms River receiving $28M for lost property taxes from superstorm Sandy
Toms River is receiving more than $28 million to cover lost property taxes as a result of superstorm Sandy, Governor Christie announced at a news conference Wednesday.
The money is coming from a $60 million fund designed to keep Sandy-impacted communities from making massive service cuts or tax increases in response to lost tax ratables. The fund is part of the $60 billion federal recovery effort passed by Congress to help states devastated by the storm. (Campisi/The Record)
http://www.northjersey.com/news/Toms_River_receiving_28M_for_lost_property_taxes_from_superstorm_Sandy.html
Senate candidates Booker, Pallone unveil jobs initiatives
With one month until they face off in a Democratic primary in the special election to fill the late U.S. Sen. Frank Lautenberg's seat, Rep. Frank Pallone and Newark Mayor Cory Booker have both unveiled initiatives to create jobs.
Booker held a town hall-style event at Unionwear, a Newark manufacturer, Wednesday morning calling for the establishment of "manufacturing universities" to create a high-skilled workforce and a national certification program for advanced manufacturing skills to bolster the industry. (Hayes/The Record)
http://www.northjersey.com/news/Senate_candidates_Booker_Pallone_unveil_jobs_initiatives.html
Christie says he's done trying to intervene in American Dream
Now that the feud between the developer of American Dream and the New York Giants and Jets footballs teams is in court, Gov. Chris Christie said today he's done trying to intervene in the dispute that has stalled construction of the sprawling entertainment and retail complex in the Meadowlands.
Calling the sports teams "unreasonable," Christie said it's not likely the complex will be completed by next February's Superbowl at nearby MetLife Stadium but noted portions of it may be ready with a favorable timetable. (Spoto/Star-Ledger)
http://www.nj.com/politics/index.ssf/2013/07/christie_says_hes_done_trying_to_intervene_in_american_dream.html#incart_river
Christie takes summer trips to Colorado and Wisconsin to meet with GOP donors, governors
Gov. Chris Christie is making the most of a quiet summer in New Jersey to hobnob with Republican donors and fellow GOP governors in Colorado and Wisconsin.
With a commanding lead in the governor's race and the budget put to bed early, Christie will travel to tony Aspen, Colo., for annual summer meetings of the Republican Governors Association next week. (Portnoy/Star-Ledger)
http://www.nj.com/politics/index.ssf/2013/07/christie_wisconsin_colorado_republicans.html#incart_river
Rush Holt wins Sussex County Democrats' Senate straw poll
U.S. Rep. Rush Holt – an underdog in the Democratic contest for U.S. Senate – won a "straw poll" tonight among Democrats in a deeply Republican corner of New Jersey.
Holt (D-12th Dist.) won the informal, non-binding contest conducted at the end of a candidates' forum hosted by the Sussex County Democrats. He received 34 votes while Newark Mayor Cory Booker got 19 votes. Assembly Speaker Sheila Oliver (D-Essex) got 12 votes and U.S. Rep. Frank Pallone (D-6th Dist.) received nine votes. (Friedman/Star-Ledger)
http://www.nj.com/politics/index.ssf/2013/07/holt_wins_sussex_county_democrats_senate_straw_poll.html#incart_river
Oliver will not advance bill to dissolve Rutgers Board of Trustees
Assembly Speaker Sheila Oliver (D-Essex) said today she will not bring a measure to the Assembly floor — proposed by her Democratic legislative partner, Senate President Stephen Sweeney — that would disband the Rutgers University board of trustees.
"I don't think that speaks to improving or retrofitting the governing structure," Oliver said during an interview with The Star-Ledger editorial board. "I don't think that's the way to do it." (Friedman & Heyboer/Star-Ledger)
http://www.nj.com/politics/index.ssf/2013/07/oliver_will_not_advance_bill_to_dissolve_rutgers_board_of_trustees.html#incart_river
Poll shows Booker retaining lead in Senate race

Cory Booker holds a huge lead in the latest poll on New Jersey's U.S. Senate primary, even in areas where his Democratic opponents might have had a natural advantage.
A Monmouth University poll released Tuesday said 49 percent of likely Democratic voters supported Booker in the Aug. 13 primary.
http://www.philly.com/philly/news/local/20130717_Poll_shows_Booker_retaining_lead_in_Senate_race.html
Christie pressed to OK medical pot for children

Gov. Christie has received 1,500 faxes over the last three weeks urging him to sign a bill that would ease the requirements children must meet before they can use medical marijuana, say the parents of a 2-year-old who has a severe form of epilepsy.
So far, the governor has issued no response, but at previous news conferences, he said he was "not inclined" to let children have marijuana.
http://www.philly.com/philly/news/politics/20130717_Christie_pressed_to_OK_medical_pot_for_children.html
New Jersey's Poor Struggle to Stave Off Hunger With Federal Food Aid
As Congress debates the best way to pass a federal farm bill, advocates for New Jersey's food-aid recipients are concerned that efforts to slash funding for nutrition programs could overburden family budgets at a time when the state's economy remains fragile and its unemployment rate remains above the national average.
Those receiving food aid say they will need to make tough choices if money from the Supplemental Nutrition Assistance Program is cut — choices made all the more difficult because most are already buying only what they consider to be the necessities. (Kalet/NJSpotlight)
http://www.njspotlight.com/stories/13/07/16/new-jersey-s-poor-struggle-to-stave-off-hunger-with-federal-food-aid/
Results of NJ Law Requiring Newborn Screening Resonate Nationwide
Three New Jersey babies with congenital heart defects had their conditions detected early thanks to newborn screening required under a law that has put the state in the forefront of a national movement to mandate the test.
State officials have been receiving calls from across the country about the successful implementation of the 2011 law, which is the subject of a study published Monday in the medical journal Pediatrics. (Kitchenman/NJSpotlight)
http://www.njspotlight.com/stories/13/07/16/results-of-nj-law-requiring-newborn-screening-resonate-nationwide/
From the Back Room
Fahy found dead of apparent suicide
John J. Fahy, who served as an assistant U.S. Attorney and Bergen County prosecutor before going into private sector was found dead today of an apparent self-inflicted gunshot wound to the head, East Rutherford police said tonight. (Isherwood/PolitickerNJ)
http://www.politickernj.com/back_room/fahy-found-dead-apparent-suicide
Bankruptcy trustee reportedly asks judge to order Schroeder's arrest
A bankruptcy trustee is asking a judge to arrest Assemblyman Robert Schroeder on contempt of court charges, according to a published report. (PolitickerNJ)
http://www.politickernj.com/back_room/bankruptcy-trustee-reportedly-asks-judge-order-schroeders-arrest
Opinion
State should ban solitary confinement for juvenile offenders: Editorial
Solitary confinement conjures images from old movies: hardened criminals sweating it out in small dark rooms until their spirit is broken and they slowly hobble back to their cells. Some hallucinate, others become rageful and violent. Some go mad.
It's not a Hollywood fiction: Studies have shown that isolation of adults decreases impulse control and increases the tendency toward violence. The overuse of solitary confinement led to a massive hunger strike by thousands in California prisons earlier this month. (Star-Ledger)
http://blog.nj.com/njv_editorial_page/2013/07/state_should_ban_solitary_conf.html