Morning News Digest: July 17, 2013
By Matt Arco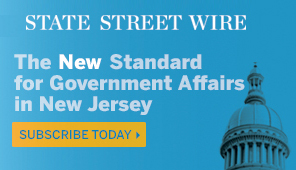 Booker continues to hold commanding lead in Senate contest
Newark Mayor Cory Booker maintains the daunting lead he has shown throughout the U.S. Senate contest, according to a new poll from Monmouth University.
According to the poll from Monmouth University, 49 percent of respondents said they would vote for the mayor in the upcoming Democratic primary. Just 12 percent say they would vote for his next closest competitor, U.S Rep. Frank Pallone. U.S. Rep. Rush Holt at 8 percent and Assembly Speaker Sheila Oliver at 3 percent round out the field. (Isherwood/PolitickerNJ)
http://www.politickernj.com/67202/booker-continues-hold-commanding-lead-senate-contest
Christie dismisses Buono economic plan as return to the Corzine years
SOUTH RIVER – Gov. Chris Christie said Tuesday he hasn't studied Democratic gubernatorial candidate Sen. Barbara Buono's economic plan, which was released Monday.
However, after a quick glance at it, Christie dismissed it as "a return to the (former Democratic Gov. Jon) Corzine years…Higher taxes, higher spending, bigger government, and government intruding in every part of people's lives." (Hassan/PolitickerNJ)
http://www.politickernj.com/67219/christie-dismisses-buono-economic-plan-return-corzine-years
Christie: Barchi's connection to corporate boards was known upfront
SOUTH RIVER – Gov. Chris Christie said Tuesday that letting Rutgers University President Bob Barchi sit on corporate boards was something that was disclosed upfront, adding that it's Rutgers' governing body's decision to make, which apparently thought it was an acceptable practice.
Christie added many presidents serve on corporate board of directors around the country. He said the university's directors board set up a procedure in which he would recuse himself from personally doing business involving the two company boards he sits on and Rutgers University. (Hassan/PolitickerNJ)
http://www.politickernj.com/67217/christie-barchis-connection-corporate-boards-was-known-upfront
Garfield deputy mayor endorses Christie, slams Buono's economic plan
Gov. Chris Christie continued Tuesday to roll out Democratic endorsements for his bid for re-election.
The latest across the aisle support came from Garfield's deputy mayor, Tana Raymond, who slammed Democrat Barbara Buono's economic plan as "reckless" just as the gubernatorial hopeful touted her proposal earlier today in Nutley. (Arco/PolitickerNJ)
http://www.politickernj.com/67215/garfield-deputy-mayor-endorses-christie-slams-buonos-economic-plan
Ramos has 400k on hand for mayor's race
Newark Councilman Anibal Ramos has $400,000 on hand for his run for Newark mayor, which is just under a year away. (Isherwood/PolitickerNJ)
http://www.politickernj.com/67209/ramos-has-400k-hand-mayors-race
Buono says she doesn't get enough credit for raising funds without party bosses' support
NUTLEY – Sen. Barbara Buono is trailing Gov. Chris Christie in fundraising for the upcoming gubernatorial election, but people should not be quick to criticize her for it, she says.
The Democratic hopeful criticized reporters Tuesday for being too eager to write stories or discuss how she's lagging behind Christie in raising funds, and she said she is not getting enough credit for raising what she has without the support of party bosses. (Arco/PolitickerNJ)
http://www.politickernj.com/67206/buono-says-she-doesnt-get-enough-credit-raising-funds-without-party-bosses-support
Christie says Barchi's outside work 'no surprise'
SOUTH RIVER, N.J. (AP) – Gov. Chris Christie said Tuesday that Rutgers University President Robert Barchi's paid advisory positions at two companies that do business with the school is "no surprise," but the governor refused to offer an opinion on the arrangement.
Christie said Barchi disclosed his associations with VWR International and Covance Inc. before being hired to lead the largest state university through a complex merger that includes the acquisition of two medical schools. (Delli Santi/AP)
http://m.apnews.com/ap/db_268748/contentdetail.htm?contentguid=axZI9UnA
Christie announces more flood buyouts
SOUTH RIVER, N.J. (AP) – The floodwaters from Superstorm Sandy gushed in through Bob and Pat Smith's porch windows and didn't stop rising till reaching the 6-foot mark. The Smiths marked the insurgence with a piece of black electrical tape to the left of the front door.
Now the Smiths, who have lived on Water Street in the Middlesex County Borough for about 50 years and have been flooded before, are among 79 neighbors who now want the state to buy out their homes. (Delli Santi/AP)
http://m.apnews.com/ap/db_268748/contentdetail.htm?contentguid=IiTQuNK7
Christie, with cameo on new sitcom, says he isn't launching an acting career
Governor Christie has done the late night television show circuit and now he's appearing on a new sitcom, but don't expect him to leave Trenton for Hollywood anytime soon.
The Republican governor, who is seeking a second term, was in New York yesterday for the taping of an episode of "The Michael J. Fox Show," in which Fox plays a sportscaster with Parkinson's disease. (Hayes/The Record)
http://www.northjersey.com/arts_entertainment/Christie_to_appear_as_himself_on_NBC_sitcom.html
Montclair State, William Paterson awarded New Jersey gubernatorial debates
Montclair State and William Paterson Universities will host the two planned gubernatorial debates this fall, the New Jersey Election Law Commission decided today.
The Record is partnering with CBS news stations in New York and Philadelphia and Gannett newspapers for the William Paterson debate. The Montclair debate will feature NJTV. (Linhorst/The Record)
http://www.northjersey.com/news/state/Montclair_State_William_Paterson_awarded_New_Jersey_gubernatorial_debates.html
Three creditors withdraw their bankruptcy filings against NJ Assemblyman Robert Schroeder
The three creditors behind a federal bankruptcy petition, filed in late March against state Assemblyman Robert Schroeder, have had a change of heart.
On July 3, the three men — Quincy Wong and Nicolas Bedural, both of Mahwah, and Joseph Marra of Brick — filed individual motions with the court, requesting their involuntary bankruptcy filings be withdrawn. (Harris/The Record)
http://www.northjersey.com/news/_Three_creditors_withdraw_their_bankruptcy_filings_against_NJ_Assemblyman_Robert_Schroeder.html
NJ comptroller to discuss 'widespread fraud' in free or reduced public school lunch program
State Comptroller Matthew Boxer has scheduled a news conference to discuss an investigation that found "widespread fraud" that involved "public employees and public officials" of the free or reduced school lunch program in New Jersey schools, his office said.
The news conference, according to an advisory distributed by Boxer's office late Tuesday, will be held at 11 a.m. at his office in Trenton. No additional details were released. (Reitmeyer/The Record)
http://www.northjersey.com/news/NJ_comptroller_to_discuss_widespread_fraud_in_free_or_reduced_public_school_lunch_program.html
Documents identify N.J. State Police troopers disciplined for roles in 2010 high-speed escort
A State Police trooper accused of pointing his gun at the head of an innocent motorist in 2010 now faces internal disciplinary charges for participating in a high-speed escort of exotic sports cars that same year, court documents show.
Trooper Rodrigo Coelho was among four charged last July for helping lead 30 to 40 cars down the Garden State Parkway at speeds in excess of 100 mph, according to paperwork filed by the State Police with the state Office of Administrative Law. (Baxter/Star-Ledger)
http://www.nj.com/politics/index.ssf/2013/07/documents_identify_nj_state_police_troopers_disciplined_for_roles_in_2010_high-speed_escort.html#incart_river
Christie says he has no opinion yet on Supreme Court's Voting Rights decision
Gov. Chris Christie said today he still has no opinion on the U.S. Supreme Court's decision last month striking down the core of the Voting Rights Act of 1965.
Asked at a news conference today whether he had read the decision by Chief Justice John Roberts, Christie said he had not yet had a chance. (Rizzo/Star-Ledger)
http://www.nj.com/politics/index.ssf/2013/07/christie_says_he_has_no_opinion_on_supreme_courts_voting_rights_decision.html#incart_river
Frank Lautenberg's son calls on Pallone supporters to get to the polls 'in huge numbers'
A week after the family of the late U.S. Sen. Frank Lautenberg endorsed U.S. Rep. Frank Pallone in the upcoming Senate primary, Lautenberg's son, Josh Lautenberg, launched a more direct attack at Newark Mayor Cory Booker, who is also vying for the seat.
"Simply put, Frank Pallone will only be your next Senator if his supporters get to the voting booth in huge numbers," Lautenberg said. "The consequence of not getting involved or assuming this race is already over will ensure victory for Cory Booker." (Giambusso/Star-Ledger)
http://www.nj.com/essex/index.ssf/2013/07/lautenbergs_son_fires_shot_at_cory_booker.html#incart_river
Rutgers survey finds young, foreign-born men least likely to buy health coverage
They are most likely to be unmarried, foreign-born men under 30, scraping by with the help of a high school diploma and part-time work — if they can find a job at all.
This is the portrait of the average uninsured New Jerseyan who, according to a Rutgers University survey released today, is the least likely to sign up for a health plan when coverage becomes mandatory next year under the Affordable Care Act. Residents who decline to enroll will be required to pay a tax penalty. (Livio/Star-Ledger)
http://www.nj.com/politics/index.ssf/2013/07/rutgers_survey_finds_young_foreign-born_men_least_likely_to_buy_health_coverage.html#incart_river
From the Back Room
Booker adds personnel to campaign team
Newark Mayor Cory Booker announced personnel additions to the Senate primary campaign team. (PolitickerNJ)
http://www.politickernj.com/back_room/booker-adds-personnel-campaign-team
Booker campaign unveils Spanish-language ads
NEWARK – Newark Mayor Cory Booker's U.S. Senate campaign reported it launched its first Spanish language television and radio commercials Tuesday.
In the spots, which will run statewide on Spanish language outlets, Booker talks about finding solutions and taking action. He discusses bringing people together to deliver results, according to his campaign. (PolitickerNJ)
http://www.politickernj.com/back_room/booker-campaign-unveils-spanish-language-ads
Opinion
Herald News: Rutgers president needs a reality check
DISTURBING QUESTIONS of judgment continue to follow Rutgers University President Robert Barchi. Every time they do, it seems, Barchi offers a plausible explanation, and in time the particular issue at hand fades away, while the larger mission of the university takes precedence. (The Record)
http://www.northjersey.com/news/opinions/215623201_Herald_News__Rutgers_president_needs_a_reality_check.html