Morning News Digest: July 31, 2013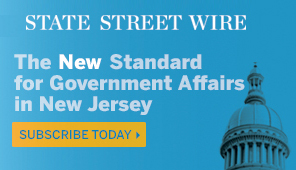 Christie slaps King over DREAM Act comment, but won't rule out campaigning for him
LITTLE FERRY – Gov. Chris Christie denounced a racially incendiary comment by a Republican congressman but stopped short of saying he wouldn't again campaign for him.
"I think it's an awful comment, and one he shouldn't have made," Christie today told reporters. (Pizarro/PolitickerNJ)
http://www.politickernj.com/67420/christie-upbraids-king-over-dream-act-comment-wont-rule-out-campaigning-him-future
Court denies Democrats request of emergent relief for removing Perez
A Superior Court judge denied a request by the Senate's top lawmaker to have a Gov. Chris Christie appointee immediately removed from Rutgers' Board of Governors.
According to court documents obtained by PolitickerNJ Tuesday evening, Judge Susan Reisner denied a request by Senate Democrats for emergent relief in their effort to block Christie's appointment of Martin Perez to the governing body. (Arco/PolitckerNJ)
http://www.politickernj.com/67435/court-denies-democrats-request-emergent-relief-removing-perez
Sweeney takes administration to court over Perez appointment, Dems announce
The state's top Senate lawmaker is challenging a Gov. Chris Christie appointee in court, according to Senate Democrats.
Senate President Steve Sweeney said in a statement Tuesday he filed a suit to prevent Martin Perez from being sworn in as a member of the Rutgers' Board of Governors. (Arco/PolitickerNJ)
http://www.politickernj.com/67431/sweeney-takes-administration-court-over-perez-appointment
Kennedy on Pallone: 'I believe he will be the next senator'
PISCATAWAY – In amplifying his endorsement today outside a mental health facility, former U.S. Rep. Patrick Kennedy heralded U.S. Rep. Frank Pallone (D-6) as a true working champion of the state's working class and of those who often times must depend on government to survive – including veterans.
The son of the late Senator Edward Kennedy and the nephew of President John F. Kennedy, the Brigantine, New Jersey resident backed Pallone in the strongest possible terms and predicted victory for his former congressional colleague. (Pizarro/PolitickerNJ)
http://www.politickernj.com/67430/kennedy-pallone-hes-going-win
Senate sources say Assembly is the reason open space bill died
Finger pointing continued today over the failed attempt to pass a resolution calling for dedicated open space spending as Sen. Bob Smith disputed Assembly Speaker Sheila Oliver's statement that she had planned to put the bill up in her chamber Thursday had the Senate been successful last night.
According to Smith, he was told the Assembly did not have the votes to pass the bill so continuing to try to muster support in the Senate was useless. (Isherwood/PolitickerNJ)
http://www.politickernj.com/67429/senate-sources-say-assembly-reason-open-space-bill-died
Christie refuses to dive into U.S. Senate GOP Primary Booker pile-on
LITTLE FERRY – Steve Lonegan wants to drum the message that Cory Booker is a failed mayor of Newark.
He went to Newark to make his case, and at his campaign headquarters opening over the weekend, vowed to send Booker home to his parents in suburban Harrington Park. (Pizarro/PolitickerNJ)
http://www.politickernj.com/67426/christie-refuses-dive-us-senate-gop-primary-booker-pile
Buono's running mate 'embarrassed' over voting record, but 'proud' of campaign work
WILLINGBORO – Sen. Barbara Buono's running mate says she's embarrassed of her voting record in recent years, but is quick to highlight how her work on election days resulted in higher voter participation.
Milly Silva, the Democratic candidate for lieutenant governor, says working long hours on election days as a union executive have precluded her from casting a ballot some years. However, she argues, her time was spent rallying volunteers and consistently working the get-out-to-vote campaign. (Arco/PolitickerNJ)
http://www.politickernj.com/67424/buonos-running-mate-embarrassed-over-voting-record-proud-campaign-work
Buono punches back at Christie's criticism of her running mate
Democratic gubernatorial candidate Barbara Buono punched back Tuesday at criticism from Republican Gov. Chris Christie that Milly Silva, her pick for lieutenant governor, didn't even bother to vote in recent elections and was unqualified for the job.
"Milly Silva has had a dramatic impact on improving lives for the people of New Jersey, something this governor can only hope to accomplish," Buono said in an interview with The Star-Ledger. (Renshaw/Star-Ledger)
http://www.nj.com/politics/index.ssf/2013/07/buono_punches_back_at_christies_criticism_of_lg_pick.html#incart_river
Paul calls Christie 'the king of bacon' on government spending
U.S. Sen. Rand Paul of Kentucky wasn't about to let Gov. Chris Christie get the last word today in their ongoing feud, calling his fellow Republican "the king of bacon" when it comes to government spending.
Earlier today, Christie chastised Paul's home state for taking more federal money than New Jersey. He said Kentucky receives $1.51 on every dollar it sends to Washington, while the Garden State gets back 61 cents. (Johnson/Star-Ledger)
http://www.nj.com/politics/index.ssf/2013/07/paul_calls_christie_the_king_of_bacon_on_government_spending.html#incart_river
U.S. Senate candidate Rush Holt 'Geeks Out' at town hall meeting
Democratic U.S. Senate candidate Rush Holt tonight said politicians should eschew ideology and the politics of personality in favor of a debate based on facts and science.
Holt, a 14-year congressman from Central Jersey who is a physicist by trade, hosted a "Geek Out" town hall meeting at a lecture hall at Mercer County Community College. Holt said that by "geek out," he means "seek and embrace facts." (Friedman/Star-Ledger)
http://www.nj.com/politics/index.ssf/2013/07/us_senate_candiate_rush_holt_geeks_out_at_town_hall_meeting.html#incart_river
Lonegan calls on Booker to talk NSA surveillance, campaign says he already has
Republican U.S. Senate candidate Steve Lonegan took his message of personal freedom to Newark Mayor Cory Booker's campaign headquarters this morning, calling on the Democrat to say where he stands on the U.S. government's surveillance of American citizens.
Booker's Senate campaign responded by pointing out he'd already done that, placing his position prominently on his website. (Hutchins/Star-Ledger)
http://www.nj.com/politics/index.ssf/2013/07/lonegan_calls_on_booker_to_talk_nsa_surveillance_campaign_says_he_already_has.html#incart_river
A round of endorsements as New Jersey campaigns heat up
New Jersey's two best-known political candidates were in Bergen County on Tuesday, and both received endorsements from Korean-American groups.
Governor Christie, in Palisades Park, won the support of more than a dozen Korean-American organizations for his reelection. (Linhorst/The Record)
http://www.northjersey.com/englewoodcliffs/A_round_of_endorsements_as_New_Jersey_campaigns_heat_up.html
In Little Ferry, Christie encourages Sandy victims to apply for aid before deadline
Governor Christie visited the borough on Tuesday to encourage residents hit by Superstorm Sandy to apply for $10,000 grants by this week's deadline.
The state has set aside $180 million in federal aid for a homeowner resettlement program. Residents that suffered at least $8,000 in damage can apply for the grants, which can be used for non-construction costs, including replacing list items, paying insurance premiums or paying property taxes. In exchange residents must agree to stay in their homes or the county they live in for three years. (Hayes/The Record)
http://www.northjersey.com/littleferry/In_Little_Ferry_Christie_encourages_Sandy_victims_to_apply_for_aid_before_deadline.html
Oprah to hold NJ fundraiser for Cory Booker
Oprah Winfrey is holding a fundraiser for Newark Mayor Cory Booker's bid for U.S. Senate.
Tickets for Thursday's event in Jersey City range from $1,000 to $2,600. Booker's campaign says about 200 people are expected to attend. (APP)
http://www.app.com/viewart/20130730/NJNEWS11/307300097/Oprah-hold-NJ-fundraiser-Booker
Why Chris Christie is a top-tier 2016 candidate — in 91 seconds
Chris Christie is more moderate than many of the Republican voters in Iowa and South Carolina that he will court if he runs for president in 2016. He's more willing than any other Republican in that potential field to say nice-ish things about President Obama. (Washington Post)
http://www.washingtonpost.com/blogs/the-fix/wp/2013/07/30/why-chris-christie-is-a-top-tier-2016-candidate-in-91-seconds/
Rand Paul calls Chris Christie 'King of Bacon'

Sen. Rand Paul slammed Chris Christie's on Tuesday, calling the GOP governor the "king of bacon," adding another jab in a string of attacks the two Republicans have thrown at each other in recent days.

"This is the king of bacon talking about bacon," the Republican from Kentucky said on CNN's "The Situation Room." "You know, we have two military bases in Kentucky, and is Governor Christie recommending that we shut down our military bases? … No what this debate really is about is that in order to have enough money for national defense, which I think is a priority for the government, you have to be willing to cut spending in other places, and Governor Christie and others have been part of this gimme, gimme, gimme, gimme all this money." (Politico)
http://www.politico.com/story/2013/07/rand-paul-chris-christie-2016-election-94901.html
N.J. Democratic Senate hopefuls spar
Newark, N.J., Mayor Cory Booker, the front-runner for the Democratic nomination for the U.S. Senate, called the disparities in U.S. public schools "the closest thing that America has to apartheid" Monday as he vowed to fight for cities' needs should he win election to the Senate.
His primary opponents – U.S. Reps. Frank Pallone and Rush Holt, and Assembly Speaker Sheila Oliver – took aim at Booker's outspoken support for charter schools and school vouchers, saying a better education system hinges on more investment in traditional public schools. (Tamari/Inquirer)
http://www.philly.com/philly/news/politics/20130730_N_J__Democratic_Senate_hopefuls_spar.html
From the Back Room
Christie takes another shot at Rand Paul
Gov. Chris Christie today fired another salvo in the running battle with U.S. Rep. Rand Paul, saying Paul should look to his home state before critiquing New Jersey.
Christie pointed out that New Jersey is a "donor state" getting 61 cents back for every dollar it sends to Washington, while Paul's Kentucky gets $1.51. (PolitickerNJ)
http://www.politickernj.com/back_room/christie-rand-paul-should-cut-pork-barrel-spending-kentucky
Opinion
Christie's turn to come up with open space funding ideas: Editorial
The effort to get an open space resolution on the ballot in November ended in disarray Monday. Senate Democrats came up short in the vote, but it's a waste of time to indulge in the blame game, as some Democrats are doing.
Did Assembly Democrats undermine the effort by ignoring the deadline to get it on the ballot? Both houses had to pass a resolution with a three-fifths majority by Aug. 5 to get it to the voters in the fall. Or did some Senate Republicans cave to pressure from Gov. Chris Christie to abandon a proposal they initially supported? (Star-Ledger)
http://blog.nj.com/njv_editorial_page/2013/07/christies_turn_to_come_up_with.html
Gov. Christie's long silence on the Voting Rights Act decision: Editorial
Gov. Chris Christie is not one to shy away from giving his blunt opinion on just about anything – to anyone, at any time.
He blasts the state Supreme Court for not allowing him to demolish the Council on Affordable Housing, and vows to reshape the "liberal" court.
He'll get in the face of constituents who ask pointed questions at town hall meetings.
Storm coming? Get the hell off the beach. (Star-Ledger)
http://blog.nj.com/njv_editorial_page/2013/07/gov_christies_long_silence_on.html
Doblin: Christie goes down slippery slope in Aspen
IT WAS a geographic mash-up. Governor Christie went to Aspen to reenact the Manhattan Project. Speaking at the Aspen Institute in Colorado, the governor went nuclear on Sen. Rand Paul, the libertarian in Republican's clothing from Kentucky. (Doblin/The Record)
http://www.northjersey.com/news/opinions/217336411_Doblin__Christie_goes_down_slippery_slope_in_Aspen.html
Milly Silva is a grand pick, but not for this job: Moran
Milly Silva had never been a candidate for public office until Monday, so we should probably be polite and begin with the good stuff. We can turn later to the horrendously bad judgment Sen. Barbara Buono showed by picking her as a running mate.
Silva was one of four children raised by a single mother in a public housing project in the Bronx, and yet she managed to graduate from Columbia University on a scholarship. (Moran/Star-Ledger)
http://blog.nj.com/njv_tom_moran/2013/07/milly_silva_is_a_grand_pick_bu.html