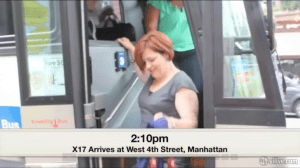 Headline of the Day: "Eliot Spitzer advises Geraldo Rivera on 'selfie.'"
Alternative: "Mayoral Candidates Want to Experience the Crappiest Parts of New Yorkers' Lives."
As mayoral hopefuls like Public Advocate Bill de Blasio live on a minimum wage-like budget and others like former Congressman Anthony Weiner and Comptroller John Liu live on a food stamp-inspired budget, Council Speaker Christine Quinn accompanied a Staten Island resident along her hour-and-a-half commute. Afterwards, she called for increased weekend express bus service, light-rail options and more ferry service.
Senator Chuck Schumer is also living the hard life, but involuntarily. His Washington apartment, shared with Senator Dick Durbin, has a rat. "Durbin and I are united in our hopes that the rat is dead, but if not, I hope that the rat is on the top floor while he hopes it is on the ground floor," Mr. Schumer quipped.
Congressman Gregory Meeks received only a warning after being chased by three police cars at 100 miles per hour back in 2008. Mr. Meeks, whose car had "police-like strobe lights while carrying an expired police placard" couldn't recall all of the details but nevertheless said, "I do recall is that the officers were professional and acted within the confines of the law."
Over the weekend, ex-Rep. Weiner went on Assemblyman Dov Hikind's radio show, where he strongly identified with the observant Jewish community and declared his opposition to the city's circumcision policies again. "I campaigned against the mayor's position on metzitzah b'peh back in 2005 because I believe that as a progressive liberal person that I am, part of that is staked in the notion of libertarianism," he said. "Being extra careful of religious observance."
While the Daily News reported that Mr. Weiner, known to poke fun at his own skinny build, has lost even more weight. The piece quotes a 1999 New York Observer profile entitled, "Such a Nice Congressman-but Skinny! Anthony Weiner Plays the New Schumer." Manhattan Borough President and comptroller candidate Scott Stringer also reportedly lost 7 pounds.
The Hasidic Politics blog broke down the race for Councilwoman Diana Reyna's district with specific maps and analysis. "Will the harassment scandal affect Lopez voter base?" they ask. "According to the 2012 general election, not so much. Based on our analysis of the results by EDs, about 3,000 voters (9%) cast a ballot for president and voted for Senator Gillibrand (D, WFP, and IND) but didn't vote for Lopez."
And former Gov. Eliot Spitzer, who is apparently not a candidate to ever turn down a late night comedy show invite, went with Jimmy Fallon last night: