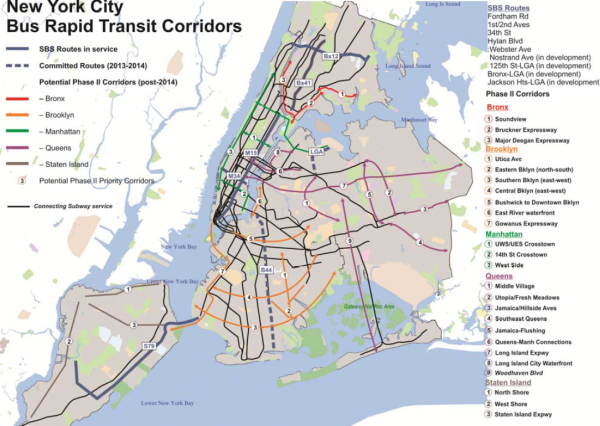 The MTA held its monthly budget hearings today, and while Joe Lhota wasn't there to spice things up by challenging a certain Holocaust-surviving board member to "be a man," the authority did offer a quick peek at its so-called "Twenty Year Needs" Vision, where it outlines long-term capital plans.
The Second Avenue subway was featured prominently, but one board member conceded that it's "simply not possible to build more lines and have them during someone's commuting lifetime" (a depressing admission of defeat for an agency beset by gargantuan construction cost premiums over peer cities like London, Tokyo and Paris), pivoting to the MTA's transit expansion strategy while we wait for funding on the rest of the Second Avenue line: Select Bus Service.
The bus rapid transit network (well, BRT-like) suffered a setback last week when the Department of Transportation and Metropolitan Transportation Authority shelved their plans for SBS service on the M60 corridor, along 125th Street in Harlem and then on to LaGuardia Airport, after encountering resistance from local community boards and elected officials.
The M60 SBS route reappears in the map that was presented to the board this afternoon, along with a number of others. Utica Avenue in Brooklyn—a crucial corridor through Crown Heights, East Flatbush and Flatlands that was planned for subway service back in 1929, and to this day hosts illegal jitneys known as "dollar vans"—is also slated for a route, as is 14th Street in Manhattan (the L does not serve anything east of First Avenue), Woodhaven Boulevard in Queens and a number of expressways (Gowanus, Bruckner, Staten Island and Major Deegan) in the outer boroughs. Also included are unnamed streets through neighborhoods like Soundview in the Bronx, or southern and central Brooklyn, along with a number of new routes in Manhattan.
The MTA also dangled the possibility of a new SBS route in the near future, announcing today that in addition to a number of service restorations, "Select Bus Service will be established on a new route to be determined." No word on what route that may be. (Perhaps it was intended to be the M60?)
In an unrelated matter, the MTA also announced that it has made plans to sell a parking lot at 19 East Houston Street by the Broadway-Lafayette subway stop, underneath the Holister billboard and next to the infamous landmarked BP station, which is also slated for redevelopment. Madison Capital is the lucky buyer—they'll pay nearly $26 million for the property, and will have to go through ULURP, requiring a City Council vote, in order to develop it.