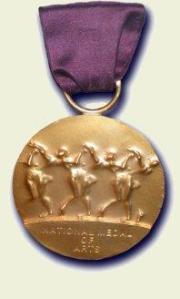 The White House announced that it will present artist Ellsworth Kelly, who turned 90 earlier this year, with the National Medal of Arts, alongside musician and artist Herb Albert, George Lucas and a handful of others. Winners are selected by the National Endowment for the Arts and receive a medal designed by sculptor Robert Graham.
The full citation for Mr. Kelly, which will be read at a July 10 ceremony in the East Room of the White House, is as follows:
"Ellsworth Kelly for his contributions as a painter, sculptor, and printmaker. A careful observer of form, color, and the natural world, Mr. Kelly has shaped more than half a century of abstraction and remains a vital influence in American art."
Previous artist winners of the award, which was first presented in 1985, include Georgia O'Keeffe, Willem de Kooning, Romare Bearden, Jacob Lawrence, Jasper Johns and Helen Frankenthaler.
Thanks to Blouin Artinfo for tipping us off to the news.