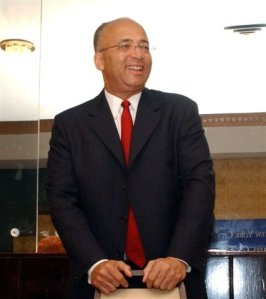 Alas, Quinnipiac University had the misfortune of polling the mayor's race before Monday's bombshell revelations of Anthony Weiner's continued deception and sexting habits beyond his resignation from office.
Nevertheless, the firm did the work and released the numbers this evening anyway–showing some good news for former Comptroller Bill Thompson in the Democratic primary in the process.
Mr. Thompson, who has generally been polling around 10 percent along with several other contenders, rises to 20 percent in Quinnipiac's findings, which now include only likely voters instead of all registered Democrats. This places Mr. Thompson right behind one-time front-runner Council Speaker Christine Quinn, with 22 percent of the vote, and behind Mr. Weiner–the recently re-scandalized candidate–with 26 percent. Further back, Public Advocate Bill de Blasio rises a bit to 15 percent while former Comptroller John Liu only has 7 percent.
Mr. Weiner's sexting controversy would presumably have some effect on these numbers; another poll, from Marist College, could shed some light on the situation when it is released tomorrow.
If no candidate reaches 40 percent in the primary, which seems likely, a runoff election will occur. And according to the poll, Mr. Thompson appears to be in good position; he edges Mr. Weiner 52 to 41 percent and leads Ms. Quinn 51 to 42 percent. A Weiner-Quinn runoff would be almost tied if held today, with 46 percent for Ms. Quinn and 44 percent for Mr. Weiner.
In Mr. Weiner were to drop out of the race in the next seven weeks–and there's no suggestion from the Weiner camp that this is going to happen–Ms. Quinn would leap to 30 percent of the vote, according to the survey, while Mr. Thompson would get 26 percent, Mr. de Blasio 21 percent and Mr. Liu 10 percent.
Voters head to the polls on September 10.
View the results below:
[scribd id=155789332 key=key-1dtrfcpvmz22u98agkn9 mode=scroll]