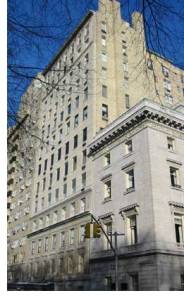 It's a story that pops up every few years: New York City's co-operative apartments—especially those on the Upper East and West Sides and in the wealthiest neighborhoods in brownstone Brooklyn—pay next to nothing in property taxes, leaving massive tax burdens for poorer renters.
Back in 2009, for example, the Manhattan Institute found that 740 Park Avenue, that limestone-faced bastion of privilege home to billionaires like David Koch, was taxed as if it were a postwar rent-stabilized building in Yorkville.
According to a report released today (.pdf) by the Furman Center for Real Estate and Urban Policy at New York University, nothing's changed.
The report, titled Shifting the Burden, "identified 50 individual co-ops in 46 buildings," according to the press release, "that were sold in 2012 for more than the New York City Department of Finance's estimate of the market value of the entire building." (Emphasis ours.)
In one particularly egregious case, the study's authors found an entire 13-unit co-op building taxed as if it were valued at $15.6 million, whereas a single apartment in the building sold recently for $50 million. (Furman takes the high road and doesn't call any buildings out by name, but we noticed that 944 Fifth Avenue, with its 13 units and a $50 million full-floor sale to former Los Angeles Dodgers owner Frank McCourt late last year, fits the bill.)
"The discrepancy," the Furman Center explained, "is due to a state tax law"—Section 581 of New York's Real Property Tax Law—"that requires the city to value condo and co-op properties the same way it values rental properties. The Department of Finance does this by using the rents generated by 'comparable' rental buildings. But, as the report highlights, this practice results in enormous undervaluation because it is impossible to find comparable rental buildings for many of these high-end properties. Often, extremely valuable co-ops end up being compared to rent-regulated buildings that have little in common with the co-op building."
While the 50 co-ops that trade for more than the valuation of their entire buildings are extreme examples, the report notes, a 2006 study by the city's Independent Budget Office found that co-ops and condos were being valued at less than a quarter of their true market value. And the wealthier the neighborhood, the bigger the discount—those in Park Slope/Carroll Gardens got nearly 80 percent off their taxes, while co-op owners in Jamaica got a discount of around 55 percent.
As a result of the undertaxation of trophy pre-war co-ops, the report found that tenants in large rental buildings—who have incomes less than half of those of co-op and condo owners, and are more likely to be black or Hispanic and have children—get hit with larger tax bills. In the case of rent-stabilized buildings, the taxes are passed on to renters by the Rent Guidelines Board, while market-rate tenants likely get at least some of the taxes passed on as well.
Unlikely though it may be that the city will work to correct the problem—it has, after all, persisted since 1981—the Furman Center does propose a simple fix: "Amending the state law to authorize [the Department of Finance] to use sales prices to estimate the value of co-op and condo buildings would solve the problem we highlight here."
Don't hold your breath.