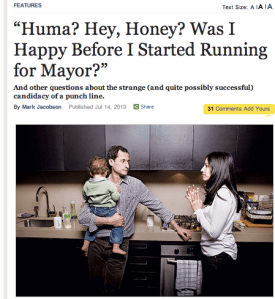 In this week's issue of New York, the magazine's editors addressed comments about a profile of mayoral candidate Anthony Weiner that ran in the magazine last week.
That profile, by contributing editor Mark Jacobson, got attention due to Mr. Jacobson's fawning treatment of Mr. Weiner's wife and Hillary Clinton aide, Huma Abedin.
One paragraph in particular stood out:
She approached in a knit white top and navy-blue business skirt, her dark, almost black hair down to her shoulders. She wore bright-red lipstick, which gave her lips a 3-D look, her brown eyes were pools of empathy evolved through a thousand generations of what was good and decent in the history of the human race. The harsh, cheap buck lighting in the coffee shop couldn't lay a glove on her. By the time she sat down, the harmony of angels had vanquished the tinny background music from every corporate space on the planet. Of course, you'd seen pictures before. But you'd also seen pictures of the Taj Mahal. It didn't quite come up to actually being there.
In The New Republic, Isaac Chotiner highlighted "the four creepiest/silliest tidbits" from Mr. Jacobson's profile, while The Atlantic Wire's Dashiel Bennett declared that the profile "reads more like the torn page of a romance novel than a political profile."And Daily News political editor Celeste Katz suggested (half-jokingly) on Facebook that Mr. Jacobson had fallen in love with Ms. Abedin.
"So maybe it's just me, but after reading this NY Mag piece on Anthony Weiner, I wondered if the author should have recused himself from the assignment after developing an insane crush on Huma Abedin," she wrote. "Or maybe it's a put-on, I don't know. You tell me."
And New York magazine did. Turns out: it was a put-on. "For the record: The passages in question were intentionally hyperbolic but we take the point," wrote New York's editors in this week's Letters to the Editor section.