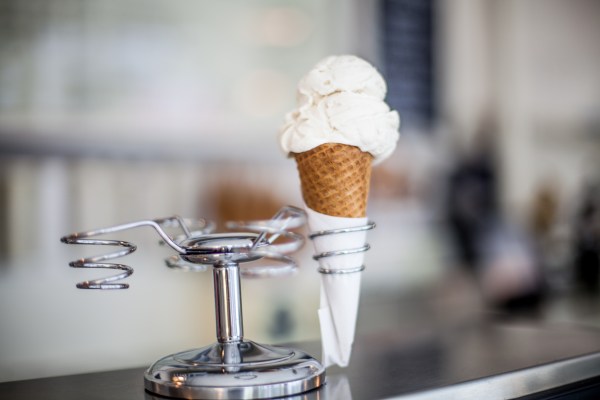 Wasabi
Sundaes and Cones
95 East 10th Street
Need a kick in the tastebuds? Go over to the East Village hotspot that's known for its cool treats. Sundaes and Cones claim they're "Committed to providing our customers with an experience of something new." The wasabi isn't as overpowering as you might expect, but, if it seems too new, you might prefer their ginger flavor.
Chorizo Caramel
Odd Fellows
Ice Cream Co.
175 Kent Avenue
Bacon ice cream is over. Try the chorizo caramel at this newly opened shop. The ice cream itself is caramel flavored, with chunks of chorizo flavoring throughout. If you're still craving more meat, you can get it with bacon-infused whipped cream.
Pea-nut Soft Serve
Momofuku Milk Bar
251 East 13th Street in East Village 
If you're someone who thinks that soft serve is a food that requires chocolate sauce or sprinkles to make it interesting, the pea-nut soft serve at Momofuku Milk Bar will convert you. This treat is pea—yes, like the green vegetable—and almond flavored. It tastes exactly like peas. Then again, it tastes exactly like almonds. Either way, it tastes fantastic. No sprinkles or sauce required.
A Bee Named Elvis
Stellina
95 Allen Street
Owner Sarah Krathen claims, "You could say weird is our thing."  A Bee Called Elvis—inspired by Elvis Presley's favorite sandwich— is made of banana, honey and graham cracker gelato, and certainly fits the bill. It also pairs perfectly with many of Stellina's other assorted flavors (especially the dark chocolate sorbet).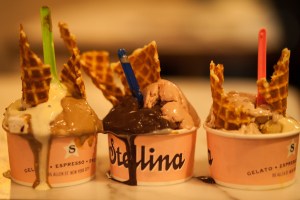 Pandan
The Chinatown
Ice Cream Factory
65 Bayard Street
Founder Philip Seid aims to "coalesce America's most popular dessert with an exotic Chinese twist" with flavors like Zen butter, red bean, and our favorite, pandan. The flavor, which is often used in rice dishes, has a nutty flavor that we think you'll go nuts for.
Photos by Amanda Cohen and check out a slideshow of some of the other flavors!