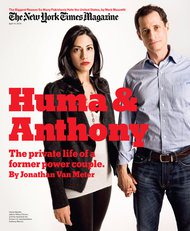 Anthony Weiner's comeback and subsequent mayoral run kicked off in April with Jonathan Van Meter's cover story in The New York Times Magazine profile.
Unfortunately, Mr. Van Meter–like the rest of the city's press corps–made a seemingly reasonably assumption about when the former congressman ceased sending crotch-shots to young women around the internet.
"Never even occurred to me to ask! I just assumed it had stopped when he got caught, lost his job and started therapy to save his marriage," Mr. Van Meter admitted to the Washington Post's Erik Wemple today.
Times Magazine editor in chief Hugo Lindgren further told Mr. Wemple that the question about when Mr. Weiner actually stopped sexting "should have been asked."
But it's worth noting that even before news of Mr. Weiner's continued predilection for sending naked pictures and writing dirty direct messages came out, Mr. Lindgren was defending the Times magazine piece for the  perception that it was too soft on the disgraced former congressman.
"We were very clear with our readers about the reason that Weiner and Abedin were cooperating with us, and our primary goal was to get them to speak as unguardedly as possible about the Twitter episode and its effect on them personally and professionally," Mr. Lindgren told Times public editor Margaret Sullivan at the time. "We think we accomplished that."
But of course, Mr. Weiner is really only completely unguarded with strangers he corresponds with on the Internet. Not with reporters.