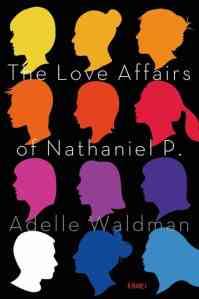 The Love Affairs of Nathaniel P.
Adelle Waldman
(Henry Holt, $25, 256 pp.)
For her debut novel The Love Affairs of Nathaniel P., Adelle Waldman plunges readers into the mind of Nate, a 30-something writer living in Brooklyn who's secured a sizable book advance and the interest of the city's lit-savvy female population. While she doesn't exactly re-
invent the wheel depicting overeducated writers overanalyzing sex, Ms. Waldman's book is far less cartoonish than recent efforts like Girls.
Like that show's protagonist, Nate isn't particularly sympathetic. He's not a "bad" guy, he just doesn't treat women very well. Nate becomes a vehicle for Ms. Waldman's suspicions about men—that they regard women with certain prejudices even when they subscribe to liberal, feminist doctrines on equality. In the tradition of writers from Austen to Tolstoy, Ms. Waldman delights in showing us the way we rationalize our treatment of others ("Of course, the women ought to have listened when he told them he wasn't looking for anything serious.") and she writes vividly, capturing the dynamics of a dinner party or describing the lights on the East River bridges. As Nate takes a girl home for the first time, he sees them "dangling like necklaces beneath the brightly lit towers, a fireworks display frozen at its most expansive moment."
To Ms. Waldman's credit, she captures romantic dysfunction and the erosion of love so faithfully—passive-aggressive conversations about bagels, alienating sex so one-sided "it might as well be masturbation," alternating waves of disgust and tenderness—that while Nate may be both attracted to and repelled by women, the reader is rarely drawn to him. —Zoë Lescaze
Queens of Noise: The Real Story of the Runaways
Evelyn McDonnell
(Da Capo Press, 360 pp., $25.99)
Queens of Noise tells the story of an all-girl rock group, the first of its kind, that formed in Los Angeles in 1975, made it big in Japan and disbanded four years later without the recognition that it deserved at home. The Runaways—who included the singer and guitarist Joan Jett, who would go on to record "I Love Rock and Roll"—were widely regarded as a novelty act in a male-dominated field. The music writer Evelyn McDonnell seeks to rescue them from that label. "The Runaways could play like the boys," she writes, "but without once pretending they weren't girls."
Ms. McDonnell identifies the reasons why the Runaways, who were portrayed in a 2010 film that bore their name, and who were seemingly cursed from the start, never took off—institutionalized misogyny, lousy management, drugs, infighting—while granting the group its agency. Featuring interviews with the surviving band members, among others, she gives a vivid portrait of the "decadence and decay of the Sunset Strip" along with one of its most infamous products, Kim Fowley, the Runaways' amoral producer and Svengali.
Ms. McDonnell sometimes gets bogged down in the minutiae of the Runaways' tangled story, but she makes a convincing case that the group of girls—mere adolescents at the time—represented a logical extension of the androgyny of glam rock, presaged hair metal and set the stage for female rock bands like Sleater-Kinney, The Go-Go's and Babes in Toyland, not to mention Madonna. Reversing the curse that plagued the band's short run, Ms. McDonnell's book declares: if you haven't heard of the Runaways, that's your problem—not theirs. —Matthew Kassel