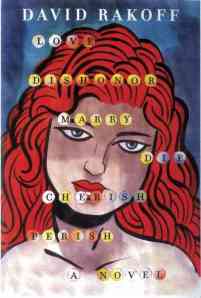 Love, Dishonor, Marry, Die, Cherish, Perish
David Rakoff
(Doubleday, 128 pp., $26.95)
David Rakoff's posthumous novel of longform verse, Love, Dishonor, Marry, Die, Cherish, Perish stands as the author's final love song to American Beauty in all its myriad forms. The couplets rhyme in iambic tetrameter, a cutesy trick when telling the tale of a redhead escaping from the brutal rape of her stepfather on a train bound for nowhere, or lovers' reminiscences of friends and family decimated by AIDS. But in the hands of the This American Life contributor, who died last year from cancer, the verses never become overly precious or waylaid by an anxiety to structure.
The impish pleasure that Mr. Rakoff took in creating couplets is evident in each "story" of Love: Where else could you find "skittish" paired with "Yiddish," or have "who so" set as a preempting for the nickname of the French post-Impressionist, Henri (Le Douanier) Rousseau?  Still, the parlor-game appeal of Mr. Rakoff's lines never usurp the scene he sets. Here he is on a young man dreaming of travel: "[He] lived the reverse of what plagued Walter Mitty." And on a urinal: "A tableau of gentility at Le Petit Trianon/ A cast of nobility, designed for the peeing on."
One is left with the hope that Mr. Rakoff left several more novels in verse lying around somewhere, and that they contain such moments of brilliant whimsy as the author's mouthful of a final tale.—Drew Grant
LOUIS BEGLEY
(Nan A. Talese/Doubleday; 208 pp.; $25.95)
Attending ABT one evening about 10 years ago, Philip, a successful novelist, recent widower and the novel's narrator, runs into Lucy De Bourgh, a Newport heiress—a descendent of slavers turned industrialists—and a friend from the past. She invites him to dinner, where she reveals that she has spent decades reeling from her early, failed marriage to Thomas Snow, whose comparatively modest Newport childhood led to a life of wealth and fame as a banker and public intellectual. Once the irresistible, irrepressible life of the party, she is now a bitter mess, piquing Philip's interest, and over the course of subsequent meetings she relays her life's story to him, from raucous parties in 1950s France, to outré sexual liaisons, to her alleged mistreatment at the hands of Thomas.
As Philip becomes obsessed with discovering the truth of their marriage, he seeks testimony from Thomas's friends and business partners, and the story becomes a thoroughly pleasurable, if not always nuanced, rollick through the recent history of America's elite, and a case study in the nation's enduring class tensions. Though he is in part gathering material for a possible novel, Philip is aware that his own death can't be far off, and so his quest is also a bittersweet and occasionally moving examination of how a legacy is forged. Is it even possible to know another relationship from the outside? As one witness counsels him, quoting Mark Antony, "The evil men do lives after them; / The good is oft interred with their bones."—Andrew Russeth