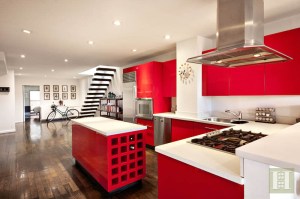 Despite its increasing affluence, the East Village is still primarily a rental neighborhood, but that doesn't mean there aren't some condos to be had for the Millennials who've made it.
Millennials like New York media figures Peter Bittenbender, who just sold his Avenue A penthouse to Rachel Bassini for $2.01 million.
Mr. Bittenbender made his fortune as the founder of Decon, a joint ad agency/music label. On the advertising side, they've worked with Red Bull and NBC (they won an award for producing the TV station's "Green Week" campaign last year), and on the music side they have a roster of artists that straddle the indie/electronic/hip-hop line, including Jurassic 5, RJD2 and the Hood Internet.
Ms. Bassini, on the other hand, is the director of strategy and operations for NewsCred, whose buzzword-heavy website declares that the company "powers content marketing for the world's leading brands" (which, as far as we can tell, means they write advertorials for news publications).
The buyer and seller, said Halstead broker Warner Lewis (who shared the listing with partner Ari Harkov), "became very friendly through the transaction." That said, money was still key to the transaction: Ms. Bassini got roped into a bidding war ("We had a few things that came in over ask," Mr. Lewis told The Observer), and the unit ended up selling for $15,000 over the asking price.
The two-bedroom loft at 107 Avenue A sits atop a five-story building erected in the 1920s, back when Alphabet City was still the less-than-desirable Lower East Side. But it's been a long time since the neighborhood was Jewish, or even particularly bohemian—the curtains closed on the long-outdated Rent five years ago, and it's been seven years since Mr. Bittenbender bought the pad, which features a roof deck and skylight, for just under $1.4 million. (He and his wife are moving to a bigger place.)
The apartment is finished with hardwood floors, but it's the kitchen that stands out: it features blood-red cabinetry, which catches the eye, a trait that would surely hold special appeal for an advertiser.
The loft, Mr. Lewis said, "really spoke to the buyer." And would she be renovating the kitchen, or keeping it red? "The buyer is very happy with it."