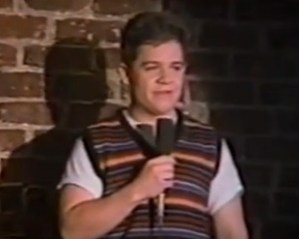 A young Patton Oswalt, pre-King of Queens (and later career shift into being the King of Nerds), was just a hustling stand-up comic, trying to make his way as a 19-year-old performing in a comedy video hosted by your student loan company. No seriously. Not Sallie Mae, or anything as specific as that. Just a vaguely threatening, overarching oligarchical entitty known as "student loans" paid for Mr. Oswalt's first gig, which the actor/comedian confirmed on Twitter: "First paid acting gig. 19 years old. $300. Educational video about student loans. Sweater vest. Kill me:"

[youtube=http://www.youtube.com/watch?v=qW2XSi06jKE&w=420&h=315]
We love the bit about spreadable broccoli, but honestly the funniest part of the whole shtick is the idea of Mr. Oswalt taking a handout from the Student Loan-Industrial Complex.