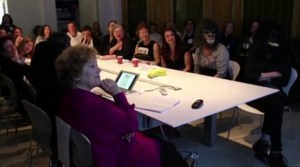 This morning ArtTable, the ladies-who-lunch organization dedicated to women in the art world, posted a video of a recent breakfast they had with some "vintage Guerrilla Girls."
Give the talk a watch, if you're so inclined. It's pretty engaging and even straightforward, despite the fact that the always anonymous Girls wear gorilla masks the entire time. The talk is hosted by art critic and curator Amei Wallach.
Enjoy!
[vimeo 70136647 w=500 h=281]
artnet Artist Breakfast with the Vintage Guerrilla Girls from ArtTable on Vimeo.