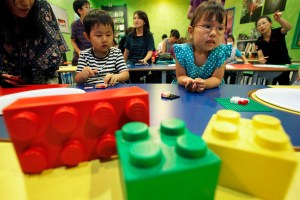 First the privileged children of New York couldn't safely traverse cobblestones. Now, they don't know how to share their crayons, either.
Posh New Yorkers with bloated wallets and no shortage of ways to empty them have begun paying $400-an-hour "recreation experts" to teach their little ones to socialize during monitored play-dates, The New York Post reported today.
During these ultra-pricey play-dates, experts gather a group of three to five four-year-olds and evaluate how the children share crayons, color, and follow directions in games like Simon Says.
Apparently, Manhattan's private schools are so exclusive that even a toddler's less-than-stellar skills with a Lego set can permanently alter their destinies, forcing infant Ivy Leaguers to suffer the indignities of public school, where they are prepped for a life of drug addiction and shopping exclusively at Target.
"Given that admission rates are so low, parents don't want to leave anything to chance," Suzanne Rheault, the CEO of Aristotle Circle, told The Post. On their website, Aristotle Circle offers "Child Playgroup Practice & Coaching," which promises to "assess your child's style and help your child be his or her best self on the playdate."
"Some kids need a little bit more work" when it comes to playtime, Ms. Rheault said. "Sometimes [parents] hear from our experts that there are some areas to improve."
Apparently the little ones' diminished social skills is due to the "regimented" nature of their young lives, packed as they are with classes "in subjects like Mandarin and violin."
"These children have five classes a week but they don't know the simplest thing – how to be at ease and play spontaneously with a child," Wednesday Martin, who is writing a book on motherhood in Manhattan, told The Post.
Did it ever occur to any of these posh parents that maybe their kiddies' social skills are lacking because they live in a gilded bubble? Just saying.