Brighton Beach is a bit off the beaten path for most million-dollar-plus condo buyers—say, about 15 Q train stops off the beaten path—but for a certain sort of Slavic-accented buyer, it's the only place to be.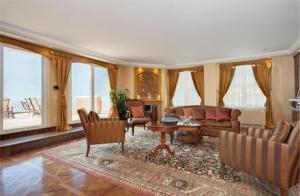 So it went for Anna Sherbakova and Sergey Pichugov, who plopped down a hefty $3.5 million for a duplex penthouse at one of the waterfront towers, 125 Oceana Drive East, plus a parking spot. That makes it a record-setting sale for the neighborhood, according to über-appraiser Jonathan Miller. (All of Brighton Beach's most expensive homes are in the Oceana complex, Mr. Miller pointed out—the last record was set back in 2006, when Oceana's builder, Muss Development, sold one of the penthouses at 135 Oceana Drive East for nearly $3.1 million.)
Ms. Sherbakova and Mr. Pichugov are certainly familiar with the 15-building, 865-unit condominium complex—they bought a 1,400-square-foot unit in one of the inland towers for $1.07 million back in 2010. But now that they're upgrading to a 2,800-square-foot, three-bedroom penthouse, the price is much steeper, as units at the Oceana have appreciated like a Siberian potash mine after privatizatsiya.
When seller Mitchell Mekles—who's made his money in real estate, and was in the news most recently for trying to buy the Sands Casino site in Atlantic City—picked up the penthouse in 2005, the apartment was a million dollars cheaper. He and his broker, Peter DeStefano at Douglas Elliman, at first asked an eye-popping $5 million back in 2011, before reducing the ask to a less stratospheric level. Mr. Mekles made extensive renovations to the unit, including a "matched mahagony office" that he poured a quarter of a million dollars into, quoth the listing. ("This is a guy who could buy anything he wanted," said one person familiar with the seller. "He got himself a very attractive Russian girlfriend—behind every bad decision there's a beautiful girl.")

"There's tons of new construction" in Brighton Beach, Mr. DeStefano told The Observer, "but when you look off your terrace it looks like Beirut. There isn't one [bungalow] among them that has a decent roof on it, it almost looks like you're on the Mexican-American border—it's not a desirable view." But Mr. Pichugov and Ms. Sherbakova won't have that problem, as their unit overlooks the Atlantic.
"Sandy did a lot of damage," Mr. DeStefano said, "but when you're that high up, on the top floor they had generators. They snuck their Ferraris out before it hit."
(Mr. Pichugov, like all self-respecting Oceana residents, is very upset about the planned public restrooms outside of the complex, writing about two weeks ago on a change.org petition, "This project is a scary example of corruption imposed on the public in such a forceful way that it comes close to atrocities that I had misfortune to observe in Russia." Bathrooms on the boardwalk: almost as bad as the Second Chechen War.)