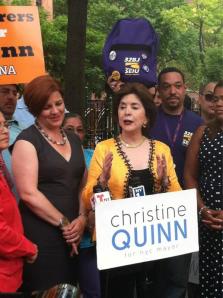 City Council Speaker Christine Quinn jetted across the city Monday to show off her newest endorsement in the mayor's race: former Puerto Rican Governor Sila Maria Calderon.
Ms. Calderón, who said she traveled from San Juan to join Ms. Quinn on the blisteringly hot day, began the tour in the Bronx, where Assemblywoman Carmen Arroyo boisterously announced the endorsement, and presence, of Ms. Calderón to a crowded room of primarily Hispanic seniors at the Andrew Jackson Senior Center.
"We have the first woman who was the governor of Puerto Rico and we have the first woman who is going to be the mayor of the City of New York," Ms. Arroyo said, drawing uproarious applause.
Similarly, both Ms. Calderón and Ms. Quinn cited the same message: New York City should have its first female mayor and Ms. Quinn is the pol to do it.
"Well, I've known her for a long time and have known Mike Bloomberg for a long time, too, and when I have realized that she's proposing to be a candidate, I immediately decided to endorse her," Ms. Calderón told Politicker. "I know her achievements, and she's a great woman but also compassionate. And I think it's time that New York has a woman as mayor."
When pressed as to why Ms. Quinn had earned her support and not, say, Rev. Erick Salgado, who grew up in Puerto Rico, Ms. Calderón stayed on message.
"Well I think that other people are endorsing the candidates and I respect them all," the former governor said, "but my choice is Christine Quinn and I'm endorsing her wholeheartedly and happily."
Mr. Salgado, however, seemed hurt by the news. "Why Sila endorse Quinn and not me . In 4 years of being governor of PR she never got anything right. Some things never change Juanma," he tweeted.
This link between the two female politicians was the theme of the day as Ms. Quinn made her case across the city to Latino voters, widely regarded as a critical swing constituency in the mayor's race. But many of those at Ms. Quinn's campaign stops were more excited to see Ms. Calderón than the mayoral candidate in question.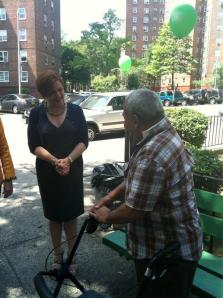 For example, when Politicker asked Maria Soltren, 74, why she braved the searing heat to attend a press conference outside the Lillian D. Wald Community Nursing Center on the Lower East Side, she replied, "To see the lady from Puerto Rico. We are proud to see her, we are happy to see her."
Many Latino voters at today's events–particularly women who said they were previously uncertain about voting for Ms. Quinn–claimed Ms. Calderón's endorsement had swayed their votes.
"'Ey, baby, she know how to speak her thing," said the women, who nonetheless said her vote comes with a condition. "If she's going to come here for the people, then she's going to get people's vote. Now if she's lying, the she's going to be in trouble."
Politicker asked her if she thought Ms. Quinn could be lying.
"No, I think she's for real," came the response. "She's for real."