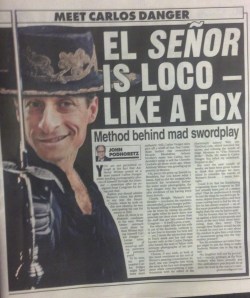 "Carlos Danger," former Congressman Anthony Weiner's alleged online moniker, has provided ample material to headline-writers, late night comedians and just about everyone on Twitter, but one of Mr. Weiner's opponents in the mayoral race wants an apology as well.
"For Anthony Weiner to hide under a Spanish name to do his bad behavior is very insulting to the Spanish community," Rev. Erick Salgado said yesterday in a video recorded by Shimon Gifter.
Mr. Salgado, a long-shot candidate of Puerto Rican descent, explained that Latino names are too often the butt of jokes or used to symbolize negative behavior, which needs to stop.
"I believe he have to apologize to the Latino community. Every time, many people do wrong behavior, it's always a Carlito, a Pedrito, a Miguelito. But behind that name, it was really not a Carlito. It was a 'Anthony Weiner.' You have to apologize to the Latino community. It's an insult," he added with a smile.
This was not the first time Mr. Salgado has taken a jab at Carlos Danger.
At a mayoral forum yesterday, he quipped, "And yes, there is a Latino running in this race–and his name is not 'Carlito Danger.'"
For his part, Mr. Weiner has yet to acknowledge that he actually used this pseudonym and has tried to avoid discussing the specific details of his sexting scandal.
Watch below:
[youtube=http://www.youtube.com/watch?v=T5d4y457KF8&w=560&h=315]