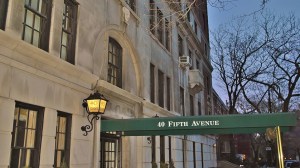 The Rockefellers have left their mark on neighborhoods across Manhattan—from their eponymous Rockefeller Center in Midtown, to Beekman Place on the East Side and the Cloisters in Inwood (and, of course, the Cloiseters' views of the Palisades across the Hudson). They even ventured as far as Colonial Williamsburg.
And now the youngest generation is staking out its claim to the island: Theodore Spencer, grandson of the late John D. Rockefeller III, just bought a $15 million Greenwich Village co-op—well, two co-ops, actually—along with his wife, Tracy Spencer, according to city records.
Mr. Spencer has followed in his late grandfather's conservationist footsteps: he works at the Natural Resources Defense Council's Climate Center. But we're guessing that he had to draw from the family fortune to buy such a pricey apartment. (Ms. Spencer's family doesn't have quite the pedigree—her father was an office manager for Standard Oil of California, which was of course an off-shoot of Mr. Spencer's family's turn-of-the-century industrial empire.)
The 12th-floor apartment in the 1929 building, erected at the height of the Roaring Twenties (as Paul Goldberger once put it, it resembles a "Park Avenue building that must have come loose in a storm and dropped anchor down here"), was not publicly listed, so we don't know who the brokers were or the exact proportions of the unit, but looking at other co-ops along the same building lines, we can guess that it is, indeed, fit for a Rockefeller. The home appears to be a combination of a three-bedroom classic seven (which "also contains a loggia with floor-to-ceiling windows overlooking [the Church of the Ascension]," according to the building's description) and a more modest two-bedroom unit (without a maid's room, it appears utterly unlivable—perhaps the reason for the combination).
The $15 million price tag appears to market a high-water point for 40 Fifth Avenue, according to StreetEasy data, besting the last record-setter—a four-bedroom, four-bath penthouse that Village Voice co-founder Ed Fancher sold to Chipotle creator Steve Ells for $11 million in 2009—by an easy $4 million margin.
The seller, Fred Hochberg, is currently the leader of the Export-Import Bank of the United States. As an ardent conservationist, though, Mr. Spencer might not be too pleased with Mr. Hochberg's tenure at the Ex-Im Bank: his term coincided with an increase in government financing for polluting industries, sparking the ire of some environmentalists.