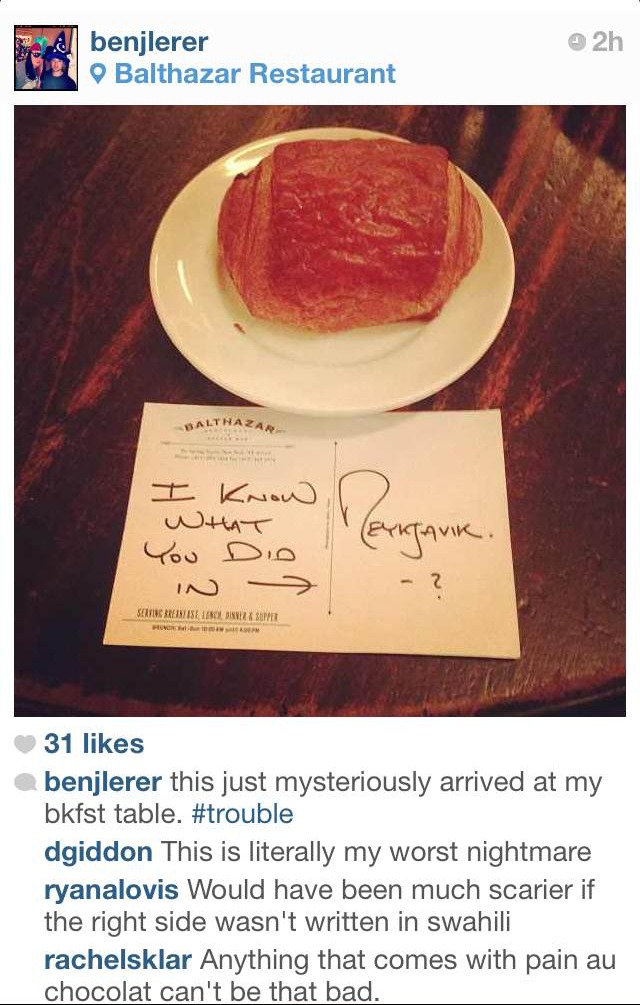 Memories Earlier this week, Thrillist CEO Ben Lerer sat down to a breakfast at Balthazar (as one does). There he was, (presumably) minding his own business, when out of nowhere a pain au chocolat arrived with an ominous note on the house stationary: "I Know What You Did In Reykjavik." The author signed the note with only a question mark.
Maybe whatever happened in Iceland during the autumn bachelor festivities for Spark Capital's Mo Koyfman didn't stay in Iceland, after all. But we can't imagine it's anything too scandalous if it warranted sending over a pastry.
"Stars" Love Uber With much of the country in the midst of last week's heatwave, those geniuses at Uber deployed their annual on-demand ice cream truck to those in need for one of hell of a publicity stunt. And it just wasn't ordered by the Mashable staff or sweaty suits in Midtown. According to a press release, big huge celebrities like Scooter Braun, Lo Bosworth, Jaleel White, Chuy Bravo and still-together band The Fray all "enjoyed and/or turned to social media" to express their excitement that they were remembered.
But Uber isn't the only transportation startup that's had a recent brush with fame. Kate Middleton's parents took a Hailo cab from the Lindo Wing to Kensington Palace after having met their grandchild, the newborn prince of England. The U.K.'s ITV News tracked the driver down, and with her clipped-back hair and Russell Brand-like accent, she is an absolute delight: "I said to her, can you imagine what it was like for me, the cab driver?" Pretty surreal, probably.
Glass's Morning Debut An errant Google Glass appeared on the Today show set earlier this week and neither fourth-hour cohost Hoda Kotb nor fill-in bobblehead Carson Daly tried to drink it. As per a tweet from NBC News' community manager Anthony Quintano, Mr. Daly looked like he was enjoying the face computer, but Ms. Kotb looked on, weirded out by the cyborg device. "OK Glass, Pinot me STAT!" is the only thing we could imagine Kathie Lee Gifford saying had she been present.
Fun with @CarsonDaly & @hodakotb and @googleglass behind-the-scenes today. #glassexplorers #throughglass pic.twitter.com/n0hPmCDQSV

— Anthony Quintano (@AnthonyQuintano) July 23, 2013
#FF Marissa Since Tumblr is now under the reign of Yahoo's Marissa Mayer, she can do whatever she wants with it! First order of business: Have "TumblrBot" gently suggest people follow her personal Tumblog. Maybe she's trying to improve her Klout score?
hahahaha nice try, tumblr. pic.twitter.com/1nujtqBgBk

— bobby finger (@bobbyfinger) July 24, 2013
Selfie Osbourne Ozzy Osbourne's purple-hairin'-est daughter feels like a twat, and the only cure is selfie advice. Blasted out from her Twitter account on Wednesday:
A lot of my work commitments have requested I take selfies & I cant do it I feel like such a twat! any advice on how to take a good 1?

— Kelly Osbourne (@KellyOsbourne) July 24, 2013
Kel, selfies are easy. Just hold up the phone, make a duck face, click the shutter button and Bob's your uncle. But allow us to point out that if it requires a selfie, it's hardly an actual work commitment. Oh, to be an '80s-rock heiress.
Handmaid's Twitter tale Bad news, Google: You've lost the scifi-authors-who-swear-they-aren't-scifi-authors demographic. Margaret Atwood recently breathlessly tweeted, "Oh Oh. .Google is funding climate change deniers," in re: this, and added a link to a petition. Watch out or you'll find yourself starring in a dystopian novel.
Butt text in the USA Disney princess and twerk enthusiast Miley Cyrus tweeted a screenshot last night of a text-message convo wherein she divulged to a mysterious pal named FEFE that she's been crying herself to sleep and took "a zanny" to pass out.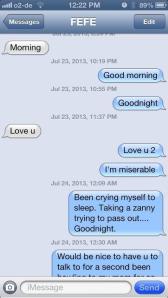 Maybe someone finally told her that her real name is Destiny Hope?
Either way, she later tweeted that she's "an idiot" (blasphemy! She's no such thing) and that she "butt tweeted" the screenshot.
Never mind. Realized I'm just an idiot & somehow I butt tweeted my conversation. Missing home #foodpoisoningsabitch

— Miley Ray Cyrus (@MileyCyrus) July 25, 2013
Errr, you'd need quite the nimble derriere to butt-tweet a screenshot but who's counting. Hope you feel better, Miley, but watch the benzos, girl. We don't want you ending up like Neely O'Hara.
Vaynerchat Social media oversharer Gary Vaynerchuk is taking his game to Snapchat, and he has asked his Twitter followers to divulge their Snapchat handles so he may diversify his personal brand even further. Followers who are apparently not afraid of toilet videos responded with their info, and one later tweeted a screenshot of Mr. Vaynerchuk pointing at the camera with "I love your beard J" superimposed. Is that a sext?!
What's your snapchat name?

— Gary Vaynerchuk (@garyvee) July 24, 2013
Snapchatting with @GaryVee – Is this real life? pic.twitter.com/z98wvIad22

— Michael Jacobs (@MrJacobs21) July 24, 2013