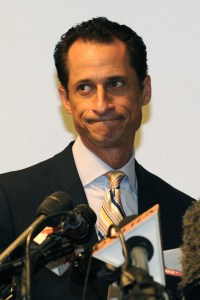 After former Congressman Anthony Weiner partially admitted today to allegations that he continued sexting after his 2011 resignation, one of his rivals in this year's mayoral race has something to say.
"Unfortunately, my other opponents have danced around the issue," former Councilman Sal Albanese declared in a statement. "I'm not going to do that. I'm calling for Anthony Weiner to do right by New Yorkers and withdraw from the race."
Mr. Albanese's comment does not come as a surprise; he's hit Mr. Weiner in the past and–as he's widely considered a long-shot candidate in the Democratic primary–does not face much risk by stepping into Mr. Weiner's apparently growing list of sexting scandals.
Nevertheless, his statement highlights the relative silence of the other candidates.
For what it's worth, Mr. Albanese, clearly on a roll, also dredged up other misgivings with his rival, such as racially-charged fliers Mr. Weiner relied upon in his first City Council campaign. (The two once served together in the Council.)
"Since he entered public life, Tony has made a career of misleading New Yorkers rather than improving their lives," he continued. "When he ran for City Council, he misled them with a racially-charged mailer about his opponent. As a Councilman, he mislead tenants to believe he would support rent control. As a Congressman, he sent sexually explicit photos to women, then told a bold-faced lie on national television, saying that he was an innocent victim of hacking."
Update (3:58 PM): Republican candidate for mayor John Catsimatidis also called on Mr. Weiner to leave the race.
"The Mayor of New York City should be a leader that all the residents of our city, especially our children, can look up to," Mr. Catsimatidis said. "Anthony Weiner should do what is right for his family and our city and drop out of the race for mayor so we can end this soap opera."