When Hurricane Sandy hit New York, flooding the streets and wiping out power below Madison Square, most downtown denizens abandoned their homes for safer, if less trendy, ZIP codes. Not Agnes Denes. The 82-year-old, Budapest-born artist, who helped establish land art as a movement in the 1960s, stayed put in her Soho studio. A day or so into the blackout, her primary dealer, Leslie Tonkonow, unable to reach her, sent a gallery director to check in. He drove downtown and raced up to the fifth floor of Ms. Denes's building by flashlight, only to find her contentedly writing by candlelight. "She was having a great time," said Ms. Tonkonow. 
The hurricane was hardly Ms. Denes's first brush with the elements; she once slept at the edge of Niagara Falls—before there were railings, as she will be quick to tell you—while staging an environmental work in 1977. But her experience with last October's storm incited Ms. Denes to devise the most ambitious project of her career, a group of enormous "mega dunes" in the Rockaways that would buffer the boardwalk, protecting the vulnerable strip of land from future storms. In artistic terms, it's as ambitious as Mayor Bloomberg's $20 billion storm-protection program for the city—and that isn't even the extent of it. She is also looking into building several barrier islands and is currently researching the depth of the water in New York Harbor.
"After Sandy hit, we can no longer ignore the changing of the weather," she said in her dimly lit studio one drizzly afternoon in June. She was dressed in a loose pink T-shirt and white pants, perched on a rigid chair that would not look out of place in a 1940s doctor's office. "You have to be hit on the head by something before people wake up."
Her studio is a maze of boxes, books and papers. Christmas cards from her son, who lives on the Upper West Side, and his wife and children hang on a line above the sofa. Ms. Denes likes to talk about the past, going page by page through binders of old projects. Her oeuvre encompasses hand-carved Lucite sculptures, monumental installations, photographs of plants and aquatic animals taken through microscopes and X-ray machines, drawings, prints and plans for impossible projects that evoke the work of visionary architects like Étienne Boullée.
"This is me standing in my wheat field," she said, pointing to a photo of her most famous project. "This is a bridge that cannot be built with today's technology. It's a bridge connecting two continents. I designed a solar observatory during the Cold War to bring the two nations together. This is a peace park I designed for Washington, D.C., and this is the snail-shaped amphitheater in Connecticut. This is the essence of the Bible put into Morse code …" Ms. Denes will openly refer to herself as "one of the most important living artists."
"Agnes has a bit of an ego, but she should—she was a first-wave feminist, a pioneer," said Walter Meyer, a landscape architect whose Brooklyn-based firm is assisting Ms. Denes with her current proposals. The barrier islands, he said, would effectively recreate an archipelago of ephemeral sand islands that came and went with the storms. The islands were destroyed around the turn of the last century when the harbor was dredged for shipping vessels, but he believes they could be rebuilt in "safe zones" that would protect against storms without impeding navigation. Getting approval for the islands, never mind actually executing them, will be a challenge. "This is a billion-dollar project," he said. "If it does happen, you and I may be underground."
But Ms. Denes is no stranger to projects that, on paper, would appear unrealizable. In the mid-1990s, she built a mountain in Finland, Tree Mountain — A Living Time Capsule, creating a virgin forest sponsored by the United Nations Environment Program and the Finnish Ministry of the Environment that will be protected for 400 years. ("Other people move mountains, I build them," she quipped, taking a shot at artist Francis Alÿs's famous 2002 performance piece When Faith Moves Mountains, in which 500 Peruvian volunteers used shovels to shift a sand dune over a few inches.) Her best-known work is 1982's Wheatfield — A Confrontation, which consisted of her planting and harvesting a wheat field on the landfill that eventually became Battery Park City. The documentation for the piece is currently on view in the ecological exhibition "Expo 1" at MoMA PS1 where, on July 21, she will discuss the mega dunes, the barrier islands and her career to date inside Adrián Villar Rojas's amphitheater-cum-apocalypse bunker.
"It's a temporary, fragile, living intervention," said MoMA PS1 director Klaus Biesenbach of Wheatfield — A Confrontation. "You think everything is cast in stone around it, but then all of a sudden you understand the city is also a living organism. I think it's really ahead of its time, and a very groundbreaking, influential piece."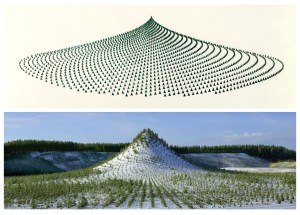 "I do very large projects because there's no sense doing little things in the corner to teach the world what needs to be done," Ms. Denes said in her studio. She speaks with an ambiguous accent that testifies to her nomadic upbringing: a childhood spent in Hungary, followed by a spell in Sweden, after which, as a teenager, she moved with her family to the United States. She listens intently, training her large dark eyes on you like a hawk deciding whether you'd make a good meal. But she doesn't mind doing all the talking, especially when it concerns her long list of achievements.
"That doesn't really interest you," she said with a coy smile after indulging questions about the dunes. "You want to know other things about me. You want to know why I get comparisons to Lenny." Lenny? "Leonardo da Vinci." She gets such comparisons largely because of her passion for science. The 11,000 trees on her Finnish mountain, for instance, were not planted haphazardly. Seen from above, they create a dizzying mathematical pattern that Ms. Denes devised using the golden ratio and the spiraling seeds at the centers of sunflowers.
To Ms. Tonkonow, her dealer, Ms. Denes's "unusual" combination of intellectualism and aesthetic beauty is one of the most compelling aspects of her art. "That's really what's distinguished her from a lot of her male peers who emerged at the time," she said, referring to land artists like Robert Smithson and Michael Heizer and conceptual artists like Lawrence Weiner, Joseph Kosuth and Douglas Huebler. "She always had this strong interest in the physical aesthetic quality of whatever she was producing that was as important to her as the concept behind the works."