A long train ride away from his Upper West Side home, comptroller hopeful Scott Stringer stumped at a bustling Brooklyn intersection yesterday, straining to introduce himself to voters who had never heard of the low-key Manhattan borough president.
Passing out campaign literature with Brooklyn Councilman Jumaane Williams near a Flatbush subway stop, the bespectacled, suit-clad Stringer struck a contrast with the many working class, black voters hustling into and out of the Flatbush Avenue station.
As if aware that he didn't look quite like any of the local pols, Mr. Stringer again and again hollered to voters, "I'm Jumaane approved!" as they shook his hand and then warmly greeted their dreadlocked councilman, one of the higher profile council members in the city.
"I'm no stranger to Flatbush," Mr. Stringer told Politicker. "But now I have to make my case so that's why I'm here."
And Mr. Williams was there to help, repeatedly bellowing, "Council member Jumaane Williams asking you to vote for Scott Stringer for comptroller! Say hello, shake a hand."
"Over the years, we've been to community meetings here, we've been to protests here, we've worked on substantive issues here," Mr. Stringer continued, his back to a candy store hawking cell phone cases and tobacco. "So I feel very comfortable asking for their vote and asking for their support."
No doubt near Mr. Stringer's mind was his notorious and now front-running opponent, former Gov. Eliot Spitzer. As Mr. Stringer stumped, Mr. Spitzer, also a white Manhattanite, was campaigning in the minority-heavy Bronx, making a simultaneous bid for the outer borough voters that will help decide both men's political careers.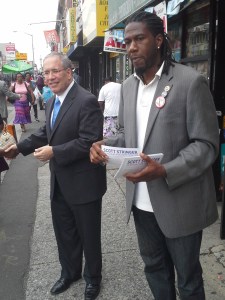 "Do I look worried?" Mr. Stringer grinned when asked if he was concerned about Mr. Spitzer's higher name recognition–the result of the posts he's held and a prostitution scandal that felled him five years ago–and willingness to spend his family's vast fortune to win the Democratic primary. "It's interesting, the good news is our message is resonating because obviously I have less name recognition and a poll says it's a dead heat," he added, referring to a Quinnipiac poll that yesterday found Mr. Spitzer leading Mr. Stringer by just four percentage points.
Unlike Mr. Spitzer, who has made only a few abbreviated public campaign stops, Mr. Stringer spent more than an hour with Mr. Williams at the packed intersection, sirens and car horns periodically blaring. With the help of Mr. Williams, recognizable to many neighborhood residents, Mr. Stringer waded into brief conversations with voters, winning over several who were unfamiliar with the wonkish Manhattan borough president.
"We seem to be getting a Stringer wave," he laughed after a woman promised, leaflet in hand, to vote for him.
At one point, a young man took one of Mr. Stringer's leaflets and stared down at it intently.
"I never heard about him with no hos or nothing," the man said, referring to Mr. Spitzer's scandal. "I'll talk to him about that."
"That's me! I'm Stringer," Mr. Stringer jumped. The man laughed, racing away.
"I guess he's with me?" Mr. Stringer mused as Mr. Williams, chuckling loudly, shouted, "Keep it real, brother!"
Robert Cammiso, an aspiring history teacher on his way to nearby Brooklyn College, said he respected Mr. Stringer but would be sticking behind Mr. Spitzer, despite his transgressions. Voters also seemed to be drawing a line between Mr. Spitzer's patronizing of prostitutes and the latest cybersex revelations surrounding Anthony Weiner's mayoral bid.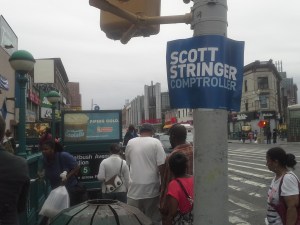 "He's got a stellar record and I don't care about people's sex lives," Mr. Cammiso said. "God bless him that he can afford a thousand dollar prostitute. Whereas, as opposed to Anthony Weiner, I think there's such a dishonesty there."
A Flatbush resident, refusing to give his name, also reacted warmly to Mr. Stringer but said he was not ruling out a vote for Mr. Spitzer.
"I like Eliot Spitzer, even though he caused his own downfall. He's provided Scott with good competition," he said.
Politicker asked if Mr. Spitzer's prostitution scandal still bothered him.
"You know what, to a certain point, yeah. But Anthony Weiner knocked everything out of the box."