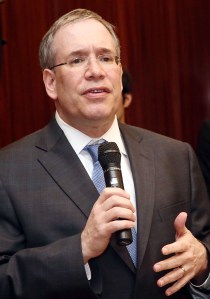 Manhattan Borough President Scott Stringer, who before Sunday was virtually unopposed in the comptroller's race, is ramping up his attacks against his new rival Eliot Spitzer, as unions and Wall Street backers rally to Mr. Stringer's side.
During an appearance on WNYC's The Brian Lehrer Show this morning, Mr. Stringer took one subtle dig after the next against Mr. Spitzer, the famously difficult-to-get-along-with former attorney general-turned-"steamroller" governor, who was forced to resign five years ago in the wake of a prostitution scandal.
"Elections are about integrity," said Mr. Stringer, who stressed that, as comptroller, he would work collaboratively with labor unions, Wall Street and the new mayor. "We need a strong, rational, mature comptroller."
He repeatedly drew contrasts between his typically mid-mannered persona and Mr. Spitzer's hard-charging style, including while he discussed the city's pension fund management.
"You can't just walk in and steamroll the board. You have to build coalition," he said, dropping the moniker that came to represent Mr. Spitzer's brief tenure as governor. In contrast, Mr. Stringer argued that he was successful when he served in Albany because he worked collaboratively. "I didn't do it like the lone ranger," he quipped.
He also slammed Mr. Spitzer again for using his family's fortune to finance his last-minute bid.
"He's trying to buy this election with personal wealth," said Mr. Stringer, claiming that Mr. Spitzer will be the only Democratic candidate this election cycle who won't be participating in the city's generous campaign matching system. "The best person to elect to do this kind of work is the person who's playing by the rules … That's up to him. I'm gonna do it the right way."
He also told Mr. Lehrer that he had no intention of launching a fund-raising push among Spitzer-hating Wall Street donors, who are already threatening to fund Super PACs to halt his efforts.
"I am not reaching out to the people that Eliot Spitzer made enemies with and vice versa. That is not my game," he said. "I have always been un-bossed and un-bought. I have real integrity."
Mr. Stringer further tried to let air out of Mr. Spitzer's professed goal of giving the comptroller's office a more activist role by using the city's pension investments to influence corporate government issues, such as CEO pay. "We're doing that now," he said. "I've been doing this kind of work for the last few years. This is not a new issue … We've  been working on this issue. And I will certainly brief him."
Instead, Mr. Stringer said he would focused his tenure on restructuring the office by bringing it into the 21st Century.
"I hope to re-imagine this office," he said, describing its physical layout as looking "like something out of an episode of Mad Men."