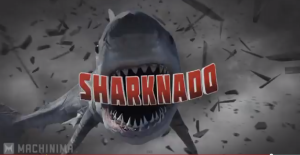 The film Sharknado debuted last night, depicting a massive tornado-shark combination and all of the inevitable hazards that naturally come with it.
The subsea saga left us with one nagging question—could it happen here?
The spectacle received rave attention across Twitter, and keen to get in on the action, the city's Office of Emergency Management tweeted, "#Sharknado isn't real (we hope), but emergencies happen every day."
Hope?
The Observer, concerned about the danger, reached out to see what provisions the city had made for this sort of emergency. But a representative insisted that no plans were needed for the Sharknado threat.
"I don't think a Sharknado could occur," a voice at the other end of the line explained.
The Observer pressed the flack as to what someone should do if, hypothetically, a Sharknado emerged to threaten the five boroughs.
"I would dispel the notion that a Sharknado could occur," he replied, "then remind them that we have plans in place for many other different types of emergencies that exist. That are real."
But surely a government agency should be able to asses the probability of a potentially deadly freak weather condition, combined with angry sharks, occurring?
"Zero," the stalwart representative maintained. "I think Sharknado is a B-movie."
Judge for yourself with the trailer below:
[youtube=http://www.youtube.com/watch?v=iwsqFR5bh6Q&w=560&h=315]