It seems like just yesterday that Rosie O'Donnell was buying a duplex in one of the old St. Vincent's hospital buildings. Indeed, it was a mere nine months ago that the comedian closed on the four-bedroom, three-bath penthouse, paying $8.09 million for the newly-converted condo.
But sometimes real estate, despite the best efforts of all parties involved, simply doesn't take. Which appears to be the case with Ms. O'Donnell and her perfectly lovely-looking apartment at 130 West 12th Street. After less than a year of ownership, the funny girl has plunked the unit back on the market, asking $10.95 million.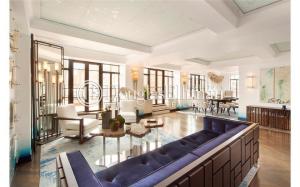 Unless the old hospital is haunted, it's hard to imagine what might have been wrong with Ms. Donnell's downtown pad, now listed with Douglas Elliman's Dennis Mangone. The apartment appears as impeccable as any model unit—all the building's spaces were designed by Cook + Fox, and this one features big windows facing the Empire State building, a fluid floorplan with easy flow between the kitchen, living and dining rooms and a large, private terrace. But it seems like Ms. O'Donnell never really settled in. (Not that her apparent lack enthusiasm for the place has stopped her from asking a good deal more than she paid for it.)
Ms. O'Donnell also sold her Miami mansion, complete with huge, beautiful Banyan tree, this June. Could it be that she is simply tired of all her real estate? The rich person equivalent of peering into one's large windowed closet and exclaiming that one has nothing—nothing!—to wear?
Well, who among us hasn't experienced a little buyer's remorse? And at least in real estate there's the possibility of a lucrative resale. Rather than regret, Ms. O'Donnell could be left with a nice profit. That is, if a buyer can be found who is willing to pay a $3 million premium for the privilege of living in the duplex.