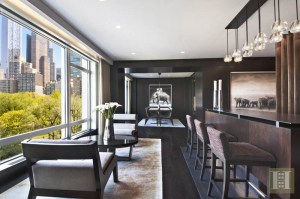 Two months after hitting the market, stock car racing champion Jeff Gordon and wife Ingrid Vandebosch have found a buyer for their seventh-floor condo at 15 Central Park West.
Halstead broker Christopher Kromer (who shared the listing with Nora Ariffin) confirmed that the unit has gone into contract, but said that "the seller doesn't want us disclosing anything about the price," and that the closing isn't expected for a few more months. But there had been, he assured us, a lot of interest.
Whether "a lot of interest" translates to getting the $30 million asking price for the three-bedroom, 3.5-bath apartment is the question. Mr. Gordon and Ms. Vandebosch bought the sponsor unit (through their shell corp, Carolina Real Property, LLC) in 2007 for $9.7 million and change. (The number was precise down to seven significant figures. What is it with sponsor units and unnecessarily exact sales prices?)
While the Robert A.M. Stern's historicist blockbuster has made its original wealthy buyers even wealthier, we'd be surprised if Mr. Gordon got his ask.
Ex-Lehman Brothers employees Arthur and Evelyne Estey, for example, picked up the apartment next door to Mr. Gordon's, with 1,000 square feet of extra space, for $17.2 million in 2007. They asked $36 million, but settled for $32.5 million, closing late last year.
And a 15th-floor unit, 3,368-square-foot unit—only slightly smaller than Mr. Gordon and Ms. Vandebosch's 3,454-square-foot spread—traded hands around the same time for just $24 million, well under its $29.5 million ask. (Its sellers made less than $10 million on their apartment, though they were late to the party, waiting till April of 2008 to close.)
So did Jeff Gordon double his money? Almost certainly. But triple it? He'd certainly be entitled to a victory lap if he did, but we doubt it.