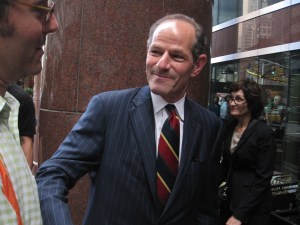 Former Gov. Eliot Spitzer arrived late to and left early from a last-minute "petitioning party" thrown to boost confidence in his surprise comeback bid for city comptroller as he races against the clock to collect the nearly 4,000 signatures he needs to make it onto the ballot ahead of tomorrow's deadline.
But tonight's event, held at Sprig, a bar and restaurant in the lobby of Midtown's Lipstick Building, likely didn't make much of a dent, with no more than several hundred signatures collected over the course of a two-hour open bar.
The small group of attendees, which included a mix of long-time supporters and curious onlookers, spent the evening sipping free glasses of red and white wine–presumably courtesy of Mr. Spitzer–as reporters and tabloid photographers peered in at them through floor-to-ceiling window glass outside. A live jazz quartet played through the evening, as waiters served plates of Bruschetta-style hors d'oeuvres topped with sliced salmon and various pâtés.
Mr. Spitzer, who arrived at the event in his signature pinstripe suit, told reporters gathered outside the loosely "closed press" event that, despite the campaign's truncated timeline, he feels confident he'll have enough signatures to make it onto the primary ballot to challenge Manhattan Borough President Scott Stringer, who had been expected to sail to victory, unopposed.
"I feel l kind of like a CEO who's being asked to predict quarterly earnings. I don't want to over-promise. I don't want to under-promise. We'll see how we do tomorrow night," Mr. Spitzer said when asked about his progress. "I feel that we put together a superb effort."
As for the event, Mr. Spitzer declared, "Tonight we're going to have some fun." The idea, he said, came from a friend who'd reasoned, "You know what, everyone's out there working in the heat. Why don't we get together and see if we can say to folks, 'Come sign a petition' but also we can fun, have a drink. Politics doesn't always just need to be standing in front of reporters answering questions."
Once inside, Mr. Spitzer skipped the perfunctory 'thank you' address to the crowd and instead stood mostly near the bar's front entrance, where he talked, shook some hands, and posed for photos with attendees. Notably, his wife, Silda Wall Spitzer, was absent from the party, despite Mr. Spitzer's insistence that she would soon join him on the campaign.
And although the party coincided with the release of an early poll showing Mr. Spitzer outpacing his would-be rival, the mood in the room was staid, with many attendees saying they were unaware of its release.
For his part, Mr Spitzer told Politicker he was pleased with the numbers, but wasn't celebrating yet.
"Look, it's gratifying at a certain level. But poll numbers have never been, for me, the measure of success or failure," he said. "What I measure is, 'Are we doing the job? Are we doing it well? Are we conveying our sense of why I want this position to the public?' And I think we're beginning to do that."
He added that he was looking forward to the next eight-and-a half weeks of campaigning–as long as they aren't as insane as his launch event, where he was mobbed by dozens of reporters and cameras in Union Square.
"Hopefully I'll get a bit more air flow than I got at Union Square other day," he said, laughing. "I don't think I'm going to forget that sort of visual. But it's gonna be fun."
Outside of the event, several petitioners reported receiving largely positive feedback from residents, like Eric Spencer, an Upper West Side architect, who stopped to offer his signature. Mr. Spencer said that much of his motivation stemmed from a desire to put another name on the ballot to force a Democratic primary.
"I'm a fan of democracy …. It's about having another choice," he said, adding that he felt Mr. Spitzer had an "unparalleled" record as attorney general and may have gone on to become a great governor had he not been forced to resign in he wake of a prostitution scandal. "This country is all about second chances, second acts–especially in the Democratic Party."
Mike Corbett, 31, a vice president of Young Democrats of America, who was petitioning outside the event, said he'd been getting a "very positive response" from voters on the streets. He declined to say how much he was being paid.
"I've been a fan of Eliot Spitzer since he first ran for attorney general," said Mr. Corbett, who argued Mr. Spitzer's résumé was perfectly suited for the job.
Fellow petitioner David Levin, 28, said there was no doubt in his mind that Mr. Spitzer would end the day tomorrow with more than enough petitions to make it on the ballot.
"I was confident yesterday. We're good," said Mr. Levin, who said he'd traveled all the way from Albany to help with Mr. Spitzer's campaign. "I'm trying to course-correct the universe."