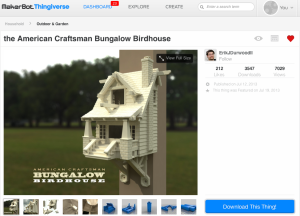 MakerBot spreads its wings It looks like the future of 3D printing is heading skyward—literally. MakerBot's Thingiverse.com recently hosted the Birdhouse Challenge, wherein more than 160 competitors used the MakerBot Replicator 2 Desktop 3D Printer to make some serious avian swag. Top entries included a birdhouse shaped like the turret of a medieval castle, and another shaped like a weird, futuristic egg. Sure, this might be a strange direction for 3D printing, but as long as it's not about shotguns, we thing we'll take the birdhouses.
Mommy Nearest strolls in Hey, New York moms: isn't it the worst when you and your Lilly Pulitzer-clad baby are strolling peacefully through Central Park, when BAM—you're in desperate need of a changing table, and have no clue where to find one, because Central Park is an evil death labyrinth? Look no further than Mommy Nearest, the new app for iOS and Android that's a lot like Yelp—except instead of restaurants, the app connects you with stuff to placate your demanding baby. Monitored by a team of Mommy Nearest "Expert Moms," the app will connect you with everything from stroller-friendly restaurants to pediatric urgent care facilities. This all sounds cool, but can't your baby find this stuff on her own iPad by now?
Coo Boutique checks in Commoners plan their vacations on Expedia. If you're really chic, you use Coo Boutique. Self-described as "luxury travel's first social trip-planning platform," the recently launched website combines upscale travel info with personalized recommendations from your social media connections. Basically, you can plan your high-end holiday to North Dakota without being distracted by an 85-year-old grannie raving about the local Olive Garden. Also on the bright side, the more you contribute to Coo, the more promotions and discounts you'll receive when booking your next fancy shmancy getaway. Time to go request some vacation days.
Maker's Row is making dough Last Friday, Maker's Row announced they'd closed a seed round of $1 million, led by Comcast Ventures, Index Ventures, and angels like Joanne Wilson and noted GTL-er Alexis Ohanian. Brooklyn-based Maker's Row connects U.S. businesses with domestic manufacturers—predominantly in the apparel and accessories space, for now. Its COO, Tanya Menendez, says they're "excited to lead the rebirth of American manufacturing."
THINX wins big We've never encountered a more high-tech line of women's underwear than THINX: the leak-resistant, stain-resistant, anti-microbial, moisture-wicking underwear that also donates hygienic products to women in under-developed nations every time you buy a pair. Yes, this a real thing. Anyways, last Friday THINX won the CROWDFUNDx NYC online contest, a 45-day competition between New York-based startups to win a $25,000 prize. The contest was hosted by Crowdfunder: like Kickstarter.com, but for startups looking for investors' cash. Hats off—or pants off, rather—to THINX.
SNATZ takes off Watch out, Digg: last week saw the launch of SNATZ, a newsreader that claims to use some sort of complicated mathematical system that detects upcoming trends, and finds you stories that suit your own tech-related interests—stories that aren't the same things that have already been clogging up your Twitter feed for the past six hours (chopped salad, anyone?) "SNATZ helps you to keep up with what's happening now in tech, but it also surfaces the trends that are starting to develop so users can stay ahead of the curve," says SNATZ founder and CEO Tom Takihi.
iHeartRadio shares the mic iHeartRadio is on the go. A few weeks ago, it announced it was moving to the Windows Phone 8. Today, it announced a brand new venture: iHeartRadio Talk, self-described as a "Twitter for audio." The new platform allows users to create, upload, and share their own audio clips as they please. Now, before you go uploading your series of reactions to the announcement of the royal baby name, don't forget: it's not just you that hates the sound of your own voice.