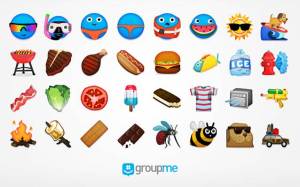 GroupMe ups the Emoji factor It's hard to text your friends about brunch plans when you don't have a bacon emoji, you know? So maybe it's time to download GroupMe, the group messaging app that now offers users a delightfully broader array of emoji than ever before. There's a red Solo cup; a taco; an iced coffee; a freaking squirrel perched on a branch, people. There's even a special summer pack that includes a sweat-stained t-shirt (ew?) and a fat dog wearing sunglasses—endless fun! Already have GroupMe? Access the new range of emoji by downloading the latest update.
Introducing Betterific Don't you wish you could just tell someone that there should be a Shazam for faces, or that cronuts need a gluten-free edition? Now you can. With recently launched startup Betterific, users can voice their personal ideas on how products and companies could serve them better, and then share those ideas with friends and followers on social media. (The cofounders say they were inspired to create the startup after a conversation about how fitted bed sheets should have length and width markings. Too true.) Betterific launched out of beta in late 2012, and was voted by TheNextWeb as one of the 13 Promising East Coast Tech Startups to Watch in 2013.
Crumbtrail winds its way to the app store "If I could create the ultimate phonebook, what would I create?" the founder of new app Crumbtrail reportedly asked himself. The answer: an uber-phonebook app that allows users to contextualize their contacts based on a broad range of factors, like the time, date or geographical location of meeting. The next step? Letting us categorize our friends by smell, of course.
3D printing: what is it good for? Wondering about the potentials of 3D printing besides making really cool dresses for Dita Von Teese? Head over to General Assembly next Tuesday evening for "3D Printing, Beyond the Hype: What's It Actually Good For?", a panel of 3D printing mavens who'll reportedly answer questions like "How is 3D printing changing existing industries?  What new industries are (actually) being enabled by it? [And] How does it enable existing technologies?" Other question hopefully answered: How soon 'til I get my 3D printed brain?
YouVersion says Hallelujah! Praise the lord! The Bible app YouVersion is celebrating not just its fifth anniversary in the App Store, but also reaching its 100 million-download mark. YouVersion, which was one of the first free apps available in the App Store, reportedly now has 200k shares per day, 1.3 installs per second, and is available in over 300 languages. In a digital age of computers and robots, God is apparently still alive and well.
MakerBot's got a new headmistress On Monday, the 3D printing pros at MakerBot announced that Jennifer Lawton, previously Chief Strategy Officer, would be taking over as the company's president. Ms. Lawton's appointment comes a few weeks after the June 19 merger of MakerBot and Stratasys. "Jenny is a huge asset to MakerBot," said MakerBot CEO Bre Pettis, "She's my right-hand.  Without Jenny we wouldn't be where we are today. She has helped lead us to the next exciting phase for MakerBot. And she is building an infrastructure that helps the team innovate, invent and improve on a daily basis." May the bots be ever in Ms. Lawton's favor!
Embrace your inner techno-activist Next Monday, head to The Calyx Institute in Soho for the Techno-Activism 3rd Mondays Meetup, where tech geeks and activists come together to discuss issues in censorship, surveillance and open technology. (Maybe Snowden will be there! But probably not.) Featured guests are developers at The Guardian Project, who'll present InformaCam: an app they're developing that will help verify the authenticity of photos and videos.