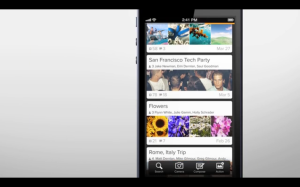 Feast your eyes on Viewfinder Head to the App Store to check out Viewfinder, the sleek, newly updated photo-sharing app developed by a team of ex-Google and Microsoft folk. The app conveniently organizes your photos by date and location, and allows you to "dial through your memories" with a really cool, easy-to-use scroll-y device. You can also privately share your photos and instant messages with other Viewfinder users—like a more personal version of Instagram or Facebook. Maybe Viewfinder's trying to make a subtle hint to hipsters posting photos of their vegan eggs benedict to Facebook: not everyone needs to see that.
Dig in to Foodler @Work When there's a deathly heat wave outside [a.k.a. now], who wants to leave the comfort of their air-conditioned office to go procure lunch? Thankfully, the food delivery service Foodler has just launched Foodler @Work, an app that lets you order food from local restaurants, delivered in less than 45 minutes to your place of work. Our favorite part? Foodler @Work lets you label each person's order, saving you the arduous trouble of figuring out which one-pound burrito is the one without onions.
HireMyFriend is opening doors So your tech startup job blows, and you're looking for a new one—but you can't announce your job search publicly without pissing off your boss. Enter HireMyFriend, the brand new, super stealthy service that lets you look for a job under a totally anonymous profile. Potential employers can view your experience and aspirations, but they won't learn your identity unless you okay it. In the words of HireMyFriend designer/hacker Jon Gold, "We want everyone to find a job they love and we want to avoid awkward situations in the job search process."
Tyra Banks gets her Hunt on Social shopping experience The Hunt has a good reason to smize: the service announced yesterday that famed supermodel and noted booty-toocher Tyra Banks has become an investor. The Hunt allows users to post photos of the clothes and accessories they most desire, in the hopes that other users might help them hunt the items down. (Do we smell inspiration for a future ANTM photo shoot?) "The Hunt brings a fun and innovative approach to shopping and fashion," Ms. Banks said in a statement, "What I love most about The Hunt is that women help other women find their perfect outfit H2T [head-to-toe]. I am excited to be part of this new approach to collective retail and styling."
Uber is doing the math On Monday, cab-hailing app Uber announced an exciting upgrade to its popular service: you can now split fares. After requesting a ride, you can add friends to your tab under the new "Split Fare" option, provided that your friends are also Uber users. This is great if you have friends who always conveniently "don't have cash" to pay you back, or if you just totally suck at math.
Take a walk down Grand St. Welcome to Grand St., the new market for creative technology that you won't find in your local Best Buy or Radio Shack. The newly public site provides an outlet for innovative individuals with sweet new technology ideas to make, showcase and sell their unique creations—free from competition with other mass-marketed, cookie-cutter products. Grand St. will house a permanent collection of ten cool gadgets, as well as featuring four or five new products each week.
Spinlister rolls onto your smartphone Are you so over Citibikes? Good news: peer-to-peer bike sharing site Spinlister is now available for download in the App Store. The app reportedly makes it easier than ever to search for bikes in your location, instant message potential renters, or lease out your own bike. And don't fear your bike getting stolen, destroyed, or left to die somewhere in the far reaches of Staten Island: the product description insists that Spinlisters are amazing people just like you.