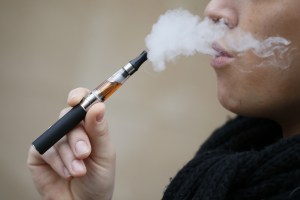 But how will hedge fund managers survive the three-hour trip to East Hampton without their fix?
The Long Island Rail Road has recently decided to clarify their smoking ban to include electronic cigarettes.
The ban was prompted by Mark Epstein, chair of the Long Island Rail Road Commuter's Council, who wrote a letter to the LIRR wanting to clear up any confusion caused by the vaporizers.
The lawyers at the railroad perused their statutes, including a November 2011 law that made it illegal to smoke on the train. The law includes tobacco substitutes, which they claim that e-cigarettes fall under.
"Our lawyers have looked closely at the legislation and believe that the law covers e-cigarettes, as well as all kinds of tobacco substitutes," LIRR spokesman Salvatore Arena told The Post.
While the LIRR states that e-cigarettes fall under tobacco alternatives, that claim is often disputed. While they aren't completely safe (scientists at University of Athens found they damage the user's lungs) electronic cigarettes pose no second-hand risk, unlike normal cigarettes. That's because e-cigs don't actually create tobacco smoke. The battery powered "cigarette" vaporizes a nicotine mixture and provides the user with a water vapor "smoke."
Alas, smokers need not panic. As of now, no deviant smokers have been ticketed for toking in trains, according to The Post.