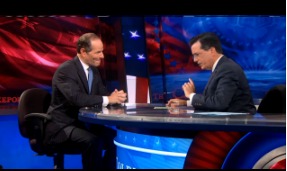 Disgraced former Gov. Eliot Spitzer stopped by The Colbert Report last night as part of his comeback campaign for city comptroller–and got quite a beating.
Host Stephen Colbert mercilessly ribbed the former "Luv Guv," beginning his attack even before Mr. Spitzer had walked into the studio. The brief interview included some of the most pointed questions Mr. Spitzer has had to face since he jumped into the race.
"Given a position of this responsibility, should the job of comptroller go to someone who has show a modicum of 'self-comp-trol,'" Mr. Colbert asked early on, drawing loud audience applause. "Why, why, why should the people trust you?" he questioned Mr. Spitzer, who resigned from office five years ago after an infamous prostitution scandal.
Mr. Spitzer quickly tried to take charge of the conversation, arguing people should judge him "based on the totality of the record," including his time spent as state attorney general, where he said he'd been the "umpire" of Wall Street.
But Mr. Colbert pressed on, asking, "Why do you want this job? Because before you had your fall from Grace–or whatever her name was–you were the governor of the state. You were the governor! Aren't you at one and the same time both above and below this job?"
"That's why I'm tryin' to get right in the middle, a little Goldilocks here," replied Mr. Spitzer, who quickly pivoted to hawking the new book that he's been promoting during his media tour and trying to talk up the power the office wields over city pension money.
But Mr. Colbert wasn't done. "Before we go, one last question," he said. "You know, you're leading in the polls. You could win this thing … Do you think that it seems that voters are more forgiving than they used to be? Do you think that signals progress for our country, or the slow decay of our moral values?"
"Wow. Wow. That is a tough one," replied Mr. Spitzer, looking unusually tongue-tied.
"This ain't Charlie Rose, motherfucker!" Mr. Colbert gloated, to no response. "Come back and tell me."
Watch below: