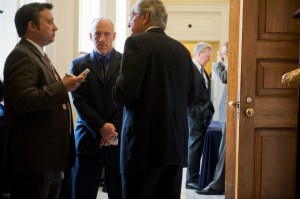 In his new book This Town (Blue Rider Press, 400 pp., $27.95), Mark Leibovich commits an act of treason against the Washington establishment. After years of attending its parties, Mr. Leibovich, a national correspondent for The New York Times, turns his pen against the city's social class and empties his notebook of all the cozy friendships and indiscreet cocktail chatter. The book, when it finally came out last week, had already unnerved the capital for months. Politico published a prophylactic piece that attempted to scoop some of the book's best scenes, with the clear message that their "Leibo" was no outsider.
But he doesn't need to be. Mr. Leibovich goes out of his way to disclose his own insider status, and then uses it to deliver a thoroughly entertaining—and mildly devastating—critique of the grubby, self-dealing Washington establishment. His focus is on the city's permanent class, "The Club," as he calls it, "a political herd that never dies or gets older, only jowlier, richer and more heavily made-up." Its members feed off a political establishment that seems far removed from public service, and they amass a local form of power through media hits, party invitations, Politico mentions and lots of loud conversations about their well-positioned friends. It's "a system that rewards, more than anything, self-perpetuation," and while it may be petty, transactional and transparent, as Mr. Leibovich points out, it often pays quite well.
He opens with the death of The Club's mayor, Tim Russert, the longtime host of Meet the Press, whom Mr. Leibovich also refers to as the "Main Bitch" and the "Mother Eagle" of this set. (He has an unfortunate habit of ironically overcapitalizing phrases like "People on TV" and "Famous for Washington.") The funeral is a perfect pageant of false pretenses and sleazy networking. Hillary and Bill Clinton stroll somberly down the aisle, even though they hated Mr. Russert and he despised them. Chuck Schumer sits with his "head bowed, conspicuously biting his lip, squinting extra hard for the full telegenic effect." Robert Gibbs and David Axelrod, the ascendant aides to then-Senator Barack Obama, are swarmed by people hoping to cozy up to the incoming administration, many of whom press business cards into the palms of Joe Scarborough and Mika Brzezinski in the hope of being booked on Morning Joe. "A new low, even for Washington tackiness," Ms. Brzezinksi later laments.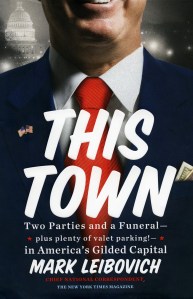 There are a lot of tacky lows in This Town, but the crowd isn't always so rarified. Mr. Leibovich is a keen observer and energetic writer, and he clearly enjoys lampooning his journalistic peers just as much as he does those in Congress. During the financial crisis, over her own objections, Andrea Mitchell had to have a special arrangement at NBC to avoid the obvious conflicts with her husband Alan Greenspan, because for Ms. Mitchell, trying to avoid conflicts is "like an owl trying to avoid trees." Jay Carney pretends not to know Hilary Rosen after she makes a controversial remark about Ann Romney, even though Mr. Leibovich claims to have seen them together in a conga line at a party. And the night before the big White House Correspondents' Dinner, Fox News's Ed Henry genuflects to an aide to the French ambassador in an elevator, in "an obvious play to gain access to the Bloomberg/Vanity Fair after-party."
Politicians float through, accompanied by some gossipy nuggets for political junkies, like Harry Reid doing yoga in black stretch pants and telling associates that his colleague John Kerry has no friends.
But much of the book focuses on Washington names that New Yorkers could be forgiven for not recognizing: Ken Duberstein, who was briefly Ronald Reagan's chief of staff; Mike Allen, the tireless morning emailer for Politico who "doles out morsels of proof that your brand is ticking"; Bob Barnett, the entrenched local attorney and go-to book agent, who President Obama declares is the conventional wisdom; and Tammy Haddad, a socialite-producer-journalist who is known for hosting an important brunch, and whose exact duties are unclear, despite all the ink Mr. Leibovich spills over her.
It's fun to read about the totems of your own town, but it's not clear how much readers outside Washington will care about this core of D.C. characters, whose broader relevance seems premised on the idea that they're close to the kind of important national decisions that Congress feels less and less capable of making. It's even less clear who will care in New York, where the local establishment tends to treat Washington like a successful but boring kid brother, to be blessed with a brief annual visit, usually with friends, during the Correspondents' Dinner. "[I]t always helps Club cred to be based in or around New York," Mr. Leibovich tells us.
At times, the book feels almost like it was written for the local establishment, rather than against it. "WARNING: This Town does not contain an index," reads the back cover jacket. "Those players wishing to know how they came out will need to read the book." Mr. Leibovich admits to borrowing the no-index conceit from Richard Ben Cramer, but Mr. Cramer's publishers weren't so bold as to use it in their marketing.(Mr. Cramer also wrote before the Internet; The Washington Post quickly supplied their own index for This Town, beating even Buzzfeed.)
When Mr. Leibovich focuses his critique, it's mostly on the city's big revolving door. Aides in the Obama administration tussle for TV appearances during the re-election campaign, with an eye toward cashing in as pundits, while a permanent class of failed politicians, known simply as "formers," are embraced with seven-figure lobbying salaries immediately after having been rejected by their constituents. Former Connecticut Senator Christopher Dodd, who was run out of the Senate for receiving what looked like a special mortgage deal, swears to Mr. Leibovich that he won't start lobbying when he leaves Congress, only to take a lucrative job as head of the Motion Picture Association of America. That pledge came "before this opportunity was on the radar screen," Mr. Dodd later explained.
A few characters come in for special scorn, none worse than brunch maven Ms. Haddad, who serves as the running mascot of This Town. According to Mr. Leibovich, she began raising lots of money for autism research around the time that Mr. Axelrod, whose daughter is autistic, arrived in Washington, and coincidentally or not, she later nets an exclusive with the president for one of her clients. The social set considers her indispensable, even as she says things like: "ELIZABETH EDWARDS IS DYING! ELIZABETH EDWARDS IS DYING! I JUST GOT OFF THE PHONE WITH HER DAUGHTER!"
Considering her social success has survived a guy from Wings saying that Ms. Haddad's storied brunch has "too many d-bags," one gets the sense she won't be particularly bothered by having her name all over Mr. Leibovich's book.
Politico pre-emptively labeled the book a "takedown" and has stuck by that in its many follow-up stories. But the book's broad indictment of Washington culture never quite sticks to any one person, and many of Mr. Leibovich's targets find a certain measure of redemption. Ms. Mitchell, for all her conflicts, is a "fierce honest and tenacious journalist" who helped break barriers for women, even if she does party occasionally with General Petraeus. After Bill Clinton "had disgraced himself" in 2008, "making unpresidential and maybe racially loaded remarks about Obama," Mr. Leibovich declares that "Bubba is back" for his dutiful work on behalf of Mr. Obama in 2012. And Hillary, who is treated as a vindictive loser preparing to settle old scores after 2008, ends up with the book's best line as secretary of state. "Fuck the White House Correspondents' Dinner," she tells Mr. Obama's cabinet when aides are concerned about double-booking the president for the mission to kill Osama bin Laden. Mr. Leibovich even comes around on Luke Russert of NBC News, whom he mocks in the opening scene as a "special prince" of Washington journalism who "will become our congressional sage before his twenty-sixth birthday." By the epilogue, Mr. Leibovich says Mr. Russert's sincere work ethic has "won me over."
The most satisfying part of This Town might be the middle third, in which Mr. Leibovich forgoes the frenetic party reporting for a few chapters that could serve as standalone profiles. One adapts his 2010 cover story from the Times Magazine, in which he turned a straightforward assignment about Mr. Allen, the Politico morning emailer and his former colleague, into a minor mystery about Mr. Allen's curious power and peculiar personality. Another chapter, which also appeared in the Times Magazine, makes Kurt Bardella, a stereotypical Hill flack and the self-absorbed engine behind Representative Darrell Issa's press operation, the central character in a tale about fatherhood and, ultimately, a very Washington form of forgiveness. Mr. Bardella helped stoke considerable "buzz" for the book last year, at least in D.C. circles, when he was fired for forwarding emails from other aides and reporters to Mr. Leibovich.
The fundamental flaw of This Town might be that the author is too intertwined with the Allens and Bardellas to offer a broader prescription for what ails Washington and how it might be fixed. It's easy to imagine the late Michael Hastings or Christopher Hitchens marshaling his evidence for a more searing book. And yet, Mr. Leibovich's writing feels like a triumph of sorts, if only because the project itself is such an affront to official Washington, which now exists in a state of perpetual background, where bits of color are filtered through press secretaries and White House officials are almost always nameless.
That same White House was supposed to have changed things and declined to bow to the dictates of "This Town." But it didn't quite happen. "Somehow we have all changed," Robert Gibbs, a former press secretary for Obama, laments at an internal meeting to address all the self-serving leaks emanating from the re-election campaign. "Or maybe Washington just changed us."
editorial@observer.com