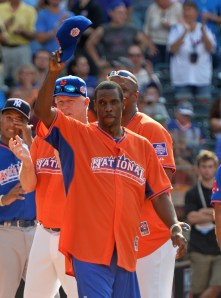 Dwight Gooden's new addiction memoir, Doc, begins in medias res, the morning after the Mets' game-seven World Series victory over the Boston Red Sox in 1986. It was the team's first championship in 17 years—and to this day, its last.
But instead of celebrating, the then-21-year-old wunderkind from Tampa, Fla., could be found sad and alone in his bed in Roslyn, Long Island, debilitated from a nasty coke-and-booze hangover, his eyes puffy from a recent bout of crying. The Mets' star pitcher had no choice but to watch his team's victory parade on television as it eased its way through the Canyon of Heroes.
"That's when I knew that my addiction to drugs and alcohol had taken control and I was powerless to this disease," Mr. Gooden, 48, said last Wednesday at Bryant Park's open-air writers' series, Word for Word. Before a crowd of Yankees and Mets fans, Mr. Gooden was there to discuss his tell-all book along with his co-writer, Ellis Henican, an author and journalist.
While Doc is a sobering testament to one athlete's remarkable fall from grace, it's also a tale of redemption: Mr. Gooden has been drug- and alcohol-free for two-and-a-half years now. After countless failed attempts to overcome his addictions—along with an incarceration—he found salvation on VH1's reality television series Celebrity Rehab With Dr. Drew.
Unlikely as it may seem, Mr. Gooden insists he took the show very seriously, despite its elements of lowbrow drama.
"I was ready," Mr. Gooden said, adding that, aside from prison, the only place waiting for him was the cemetery.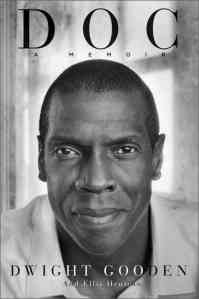 Mr. Gooden, who came to prominence as a Met, broke into the big leagues in 1984—the same year he became the youngest pitcher ever to appear in an All-Star Game.
"My knees just buckled," Mr. Gooden recalled of being called on in the game's fifth inning. Insecurities aside, Dr. K, as he was known, overcame his wobbliness and struck out the side.
There was a lot "less pressure," Mr. Gooden joked, at this year's All-Star showdown, which he had attended at Citi Field the night before his Bryant Park event.
Mr. Gooden maintained that he is a Mets fan first, but admitted that he still on occasion roots for the Yankees, the team for which he threw a no-hitter in 1996. That game would be the last one that his father, a major influence in his life, would ever see him play. As for his own progeny, Mr. Gooden has seven children and said he tries to see them as much as possible to make up for lost time.
At one point last Wednesday, a person in the crowd asked Mr. Gooden, who was raised in a tumultuous home, if he blamed anybody for his addiction.
"The only person I had anger and resentment toward was myself," Mr. Gooden noted.
Another fan addressed the rampant use of steroids in baseball. What did he think of this new trend?
"It gives the game a black eye," Mr. Gooden said with regret. "It's not fair to the guys who are doing it the right way."
Mr. Henican turned to the former star pitcher—a Cy Young Award and pitching Triple Crown winner—and asked him if he had ever juiced.
"Illegal stuff, yes," Mr. Gooden solemnly noted, "but not steroids."
Mr. Henican, who clearly already knew Mr. Gooden's answer, offered a playful riposte: "We found a drug that Dwight did not do!"