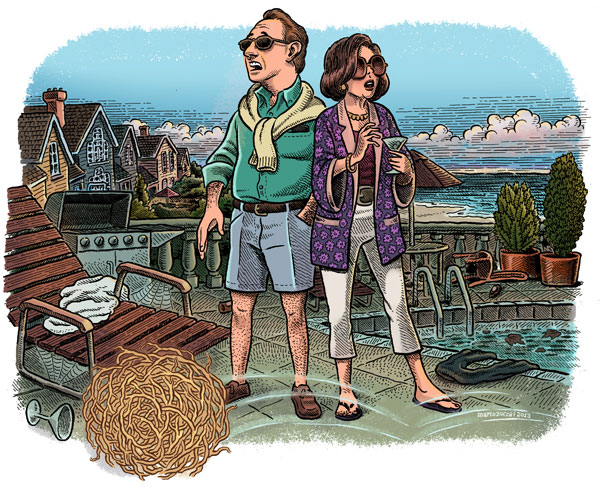 It was opening weekend in the Hamptons.
There I was at a Memorial Day party at a stunning manse "on Goldman Pond," as some now refer to the body of water formerly known as Sagg Pond. Now home to some of the most expensive waterfront Hamptons properties, it has become a coveted location for financial-industry types in search of deepwater docks.
I was air kissing couples dressed optimistically in nautical blue and white despite the persistent rain.
"Great to see you, Richard," my friend's taut wife smiled.
After a brief exchange in a mist of orange-blossom fragrance, everyone was saying their thank-yous to the evening's host and hostess, along with their goodbyes.
"See you in August," she smiled.
"Where are you off to?"
"Antibes."
"And you?" I questioned a lingering neighbor.
"Sardinia. It's a family tradition," she explained. "See you in late July."
"See you in August," I said to a friend.
"Have fun in Saint-Tropez!" he echoed.
"Have fun in Capri!"
"Have fun in Mykonos." We all hugged.
"Are you out here for Thanksgiving?" a summer friend asked, walking us out of the party. "That's the next time we'll be here. Let's put something on the calendar for the fall."
It was only the first weekend, and the Hamptons' early-summer exodus had begun.
While some friends remain passionate about the surfing lessons, the $100-a-pound lobster salad (from you know where) and the purple-streaked Sagaponack sunsets, there is a distinct group of people using their Hamptons estates less and less, with no plans either to sell or rent. "Whole neighborhoods are on timers," said a busy house watcher I ran into in the local hardware store. "At 9:15, it lights up like the Christmas tree at Rockefeller Center."
As we were driving home from the party, we passed by a neighbor's house, a recently assembled McMansion with turreted peaks and outsize turn-of-the-century demilune windows.
"Have you ever met them?" Dana asked me.
I recalled popping by with a bottle of French rosé when the couple first moved in. "Yeah," I said, "when I brought over the housewarming gift."
"I've never met them," she shrugged, turning onto our property. "It's a little weird, given they bought the house five years ago and they live only a few houses down."
"I like a quiet neighborhood," I said.
"Fine, but if you run into them, tell them that they need to reset their light timer," she said. "They forgot it's no longer daylight savings time."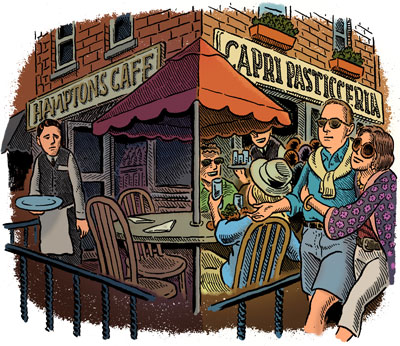 IT ALL SEEMED TO JELL for me in the first-class lounge at Kennedy, where we bumped into three couples en route to different European locales.
"We bolt the moment we drop the kids off at the camp buses in front of the Met. I give a good cry, and then we make a mad dash for the airport," my friend's wife said, snagging a complimentary foil packet of peanuts and a mimosa before offering me a Xanax from the pill case in her zippered Vuitton makeup bag. "The kids aren't allowed to call for 10 days anyway, so it's a guilt-free getaway," she remarked as she started to drift off into a blissful repose.
"Where are you off to?" I asked as she gulped back her little helper.
"Saint-Tropez. And you?" she managed to ask.
"Capri."
"Well, you might as well have never have left the beach club," she cackled as she rattled off a dozen or so couples leaving their Hamptons abodes to make a pilgrimage to the Amalfi Coast.
She wasn't wrong. The following day, I was in the Piazza de Spagna, making my way to the Caffe Greco Antico for an afternoon espresso when I ran into a popular Hamptonite and his wife, their designer shopping bags overflowing with VAT envelopes and satin-ribboned boxes wrapped as only the Italians can.
"My children have no desire to go to the Hamptons anymore. We used to go every weekend when they were younger. Now they want to be with their friends in the city." He paused. "So we just go to the Med."
"Why not sell it, then?" I prompted.
"No. They would be too upset. They like to know it's there … the way she likes to know her engagement ring is in the safe but only wears it two times a year."
"Honey, come over here," his wife motioned excitedly, peering into the window of one of Italy's most exclusive jewelry stores.
"I like Italy or France in the summer. I can get away from all the boiler and air-conditioner and basement mold problems—not to mention the roof, or not being able to get in touch with my decorator. It's actually cheaper if I buy her a pair of those earrings than if we were in Bridge and she wanted to start a redecorating project."
"Well, have a great Fourth," I said.
"You too. Have fun in Capri. Don't mention my name in any of the shops, or they may charge you extra," he laughed good-naturedly.
My late father used to say that staying in a five-star hotel without any luggage is the ultimate luxury.  That said, staying in a heralded European resort does not even cut the moutarde for some Hamptons elites.
My wife and I were having an intimate lunch at La Fontelina, one of Capri's best and most picturesque seaside kitchens, when a group of familiar faces alighted from a cruise-ship-sized yacht in the distance.  
"Enjoying yourselves?" I asked as they occupied the table next to ours.
"What's not to enjoy on 225 feet?" a Southampton fixture shrugged with self-satisfaction.
"Fantastico," one of the wives exclaimed, her newly acquired laminates glimmering like pearlized reflectors.
"Oh, you're just in a hotel?" she sympathized. "Next time you must do a ship! We sleep like babies, and the best thing is, we wake up in Portofino or Croatia—not the North Fork."
"So who's in the Hamptons house?" I asked.
"I give it to my in-laws," the husband revealed. "This way they're taken care of and
I don't have to see them.
"It's the gift that keeps on giving," he guffawed, dipping into a platter of fried calamari.
"I really hate the Hamptons," I heard one of the wives say as we stood to leave.
"So sell it," someone said.
"Well, I'm certainly not going to sell it and go somewhere I would never use like the Jersey Shore." She mentioned friends who recently bought in Connecticut.  "It's like being in an old-age home in the forest. Nothing to do or buy. Just dead leaves everywhere."
In the chic, potted garden of the Hotel de Russie, an acquaintance recounted his long path to Hamptons estate ownership, along with its recent disappointments.
"When I was in my 20s, I did the typical share house in Quogue where you could put your fist through the Sheetrock," he told me.
"I got married and then a promotion and we bought our first house, North, on a cul de sac. When I finally made a real bonus, we bought a house in the promised land south of the highway in Bridgehampton, with farm views. "
"And then?" I asked, plying him with prosecco and olives.
"Once we bought the big house, my wife got to hire a real decorator. Guess what?"
"What?" I leaned in.
"We invited our friends over for a party in July."
"And?"
"And no one was in town," he wiped his forehead.
"It's crazy, we spent all this time and money, and no one was home."
"Well," the wife added, "It would still be better if we were on the ocean or the pond.
Maybe they'd come then."
Another couple I had drinks with on the terrace of the Grand Hotel Quisisana barely use their house in the estate section of Southampton—but are nevertheless considering upgrading to oceanfront. "I only use my house two days a year," the husband said between puffs of a cigar. "My wife is mostly at our house in Aspen. What do I need a huge house for, when we can sell it and upgrade to the ocean, even if it's only six or seven thousand square feet?"
"So you can go for five days instead of two?" I joked.
"How did you know?" he said in all seriousness.
As it turns out, getting a bigger house to not stay in appears to be a something of a trend among select Hamptons deserters. The next day, we had an alfresco lunch with one of the Hamptons' most stylish hostesses and her husband. As the bread basket arrived, she reached into her beach bag and produced a package of low-cal GG crackers. "We go away to be together," remarked her husband, a well-regarded CEO of a public company, "and escape the social pressure of the Hamptons."
The wife munched on the cracker with some marinated eggplant. "While we may only spend 30 days a year there, I view owning a Hamptons property as part of a diversified real estate portfolio," she said. "And as far as I'm concerned, 11962 is the primest."
Toasting over a pitcher of sangria, the husband added, "When I'm buying a business today, I look at EBITA—earnings before interest, tax and amortization. When it comes to owning a home in the Hamptons, it's EBITFV, earnings before interest, taxes and family values. You can't put a price on it. As the kids get older they come back—and that's when they want a bigger house."
"Suddenly your kids have a boyfriend or girlfriend in tow and not a nanny," she chimed in.
"So you're looking for a bigger place?" I stirred the pot.
"Of course," she answered.  "Can I be honest? It's time for a frickin' upgrade."
"We want three chimneys, like every other partner on Wall Street!" he laughed.
John Paul Getty's converted seaside palazzo isn't exactly a shabby place to end to a vacation before dealing with the lines at Fiumicino Airport. During hors d'oeuvres on the gorgeous outdoor candlelit terrace, the pianist played soothing Chopin études. 
As guests arrived for drinks, I spied a familiar face on the Hamptons circuit talking on the phone in the no-cellphone area while pacing the seawall.
"There's nothing like Italy and France in July," he said into the phone. "No, they couldn't come this year. Yeah, it it's a shame. They stayed home and had to use their house in the Hamptons. I guess he didn't have a great year."
I wasn't sure whom he was talking about, but the conversation couldn't be ignored.
"Maybe they'll be able to come next year," he said, choosing a quail-egg-sized green olive. "Although I'm not sure where I'll be. I hear Sun Valley is really great in the summer."
Richard Kirshenbaum, the co-founder of Kirshenbaum Bond + Partners, is the chief executive of NSG/Swat, a creative services and product development company. He has lived on the Upper East Side for 18 years.