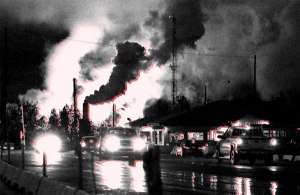 In June, I took my daughter Marguerite to Canada to say goodbye to my brother Steve and his family before they moved to Bali, of all places. For the past decade or so, Steve has lived outside Creemore, a bucolic Ontario town, and Marguerite amused herself by chasing butterflies beside the river running through his backyard. I also spent a morning visiting The New Farm, an organic farm owned by my friends Brent Preston and Gillian Flies. We talked about how to sauté garlic scapes, and I Instagrammed a picture of a sink full of fresh strawberries. We then went up to my family's cottage, where I spent several hours throwing Marguerite off the dock into the fresh water of the Trent-Severn Waterway.
We returned to New York before Canada Day (July 1), but I marked that occasion at the 10th annual tribute to Canadian songwriting at Joe's Pub, produced by expat Canadian Jeff Breithaupt (the lyricist half of the award-winning Breithaupt Brothers songwriting team). Highlights: The Voice contestant J'Sun singing Gordon Lightfoot's "The Way I Feel," and Jamie Leonhart singing "Famous Blue Raincoat" by Canada's slightly maudlin answer to Bob Dylan, Leonard Cohen.
Now that you know what I did with my vacation, I'll get to the point: if I wanted to keep thinking of my homeland in the way I always have—a nicer place than the U.S., with unrivaled lake regions and good people doing good things like organic farming, I could. But I can't. You see, despite the fact that its people still like to think of themselves as a gentler and more enlightened version of their neighbors to the south, they're losing their hold on that claim. And they have only themselves to blame.
Let's start with Toronto Mayor Rob Ford. Despite the fact that he's a real-life version of Chris Farley's most inane movie characters, Mr. Ford somehow convinced Canada's most cosmopolitan city to give a racist, ignorant buffoon the keys to city hall. New York is launching Citi Bike with great fanfare and to general applause, while Toronto's mayor is the kind of guy who once suggested that bicyclists killed by cars deserved their fate. While recent media reports of Mr. Ford smoking crack provided him with a Marion Barry degree of infamy, whether or not the rumors are true hardly matters. The guy was already an embarrassment to a great city.
Then there's the concern about Toronto's overheated condo market. The New York Times pulled a fast one on readers a few weeks back with a headline that read, "In Toronto, Fears of an American-Style Crash Are Growing," before pretty much dismissing the possibility within the article itself (the headline was later changed to "A Dizzying Condo Market in Toronto"). But it is overheated—even Donald Trump has arrived, with an ultra-luxury hotel-condominium on Bay Street that finally offers Canadians their own shot at living "The Trump Lifestyle."
Not to be outdone by the likes of Dell, they've even got their very own technology train wreck in denial: Ontario's Research in Motion, maker of the once-ubiquitous BlackBerry. The erstwhile national treasure has been stuck in "perpetual turnaround" for a couple of years now, otherwise known as circling the drain. (It's not the first time: telecommunications giant Nortel took its own swan dive from much higher heights.) Even Canadian analysts and investors blinded by patriotism have begun to capitulate. There are only a few short chapters left to go in that sad story.
But none of that compares to the kick in the balls that Foreign Policy magazine delivered to Canada on June 24. In an article titled "Oh, Canada: How America's Friendly Northern Neighbor Became a Rogue, Reckless Petrostate," writer Andrew Nikiforuk renders moot all the tried-and-true comparisons with the U.S. that Canadians use to make themselves feel good. The point now isn't whether Canada is morally superior to the U.S., but that its government has actually embraced the macho dictatorial approach of Putin's Russia while making sweet love to the insatiable energy hunger of China. Among other zingers, Mr. Nikiforuk calls the Great White North "a dystopian vision of the continent's energy-soaked future."
It's a jarring article, and one that reaffirms the emerging idea that Canada and the U.S. seem to have switched historically designated roles. In the U.S., we have Barack Obama and a Democratic Senate barring the doors to the nuthouse politics of the American right-wing fringe. Canada, meanwhile, is being run by a money-hungry conservative government hell-bent on making the country's economy even more reliant on oil. These people actually elected their Rick Perry instead of merely laughing at him.
And they'll shut you down if you try to get in their way. To that end, Mr. Nikiforuk rolls out a litany of un-Canadian behavior, including attacking conservationists as unpatriotic, muzzling climate change scientists and dismantling environmental laws. Forget the passionate debate about the environmental dangers of the Keystone Pipeline and the dirty oil of Alberta's oil sands. If the U.S. doesn't want what Canada's got on offer, they'll pipe the black gold all the way to China. Mr. Nikiforuk pins much of the blame for the dramatic change in national personality on Stephen Harper, Canada's prime minister, a man so bland and uninspiring that it's hard to muster anything at all to say about him. But I will try anyway: Mr. Harper is the nerdy high school class president whom no one liked at the time but who nevertheless somehow found a way to grab the brass ring 20 years later. No one likes him now, either, but as with Rob Ford, they seem to have voted for him anyway.
An evangelical who is nevertheless smart enough not to pull a Rick Santorum and alienate the non-Bible-thumping part of the electorate, Mr. Harper has surely proven more "American" in his politics than some Canadians expected, ramping up defense spending, committing $2 billion to prison expansion and saddling the country with an unprecedented $600 billion in federal debt. (From an American perspective, $600 billion is a laughably paltry number, but that's not the point. Canada isn't supposed to do things like leverage itself to the hilt.)
There's a certain unfairness to Mr. Nikiforuk's condemnation of Canada's energy economy—you've got to play the hand you've been dealt, and in exchange for cold-as-all-get-out winters, Canada received a bounty of natural resources, from diamonds to oil. But he's right to point out Mr. Harper's heavy-handed approach to ramming important decisions with long-term environmental and economic implications down a somnolent nation's throat. Occupy Ottawa, people!
Mind you, given the venue of the piece—Foreign Policy—there's also a dash of geopolitical positioning masquerading as concerned environmentalism. He seems shocked that Canada let three state-owned Chinese oil companies "with dismal records of corporate transparency and environmental sensitivity" pay more than $20 billion for oil sands rights in Alberta. As opposed to whom, one might ask? American oil companies and their … environmental sensitivity? With American demand for Canadian oil in decline, in part due to fracking—whose supporters are as stymied in answering environmental questions as the oil sands folks—Mr. Nikiforuk takes Canada to task for courting China as its next-best customer option. How dare the Canadians establish a deeper economic relationship with the country that has pretty much floated the American monetary experiment over the last decade? Don't they have any manners?
Such hypocrisy aside, there's much to contemplate in the piece, including a reminder of Mr. Harper's 2012 withdrawal from the Kyoto Protocol (which he called "a socialist scheme" in 2007) and The Economist's characterization of Mr. Harper's having broken "new ground in the subverting of the democratic process." Mr. Harper has indeed proceeded in his agenda with an aplomb that Republicans in the U.S. Congress must envy, slashing national parks budgets, forcing cutbacks on the highly regarded national broadcaster CBC and gutting Canada's Fisheries Act to make way for an oil pipeline.
No wonder my brother is moving to Bali. Well, there's that, and the fact that my sister-in-law, Jackie, landed herself a plum job at the Green School, the kind of progressive institution you might find in … Canada? Not likely.