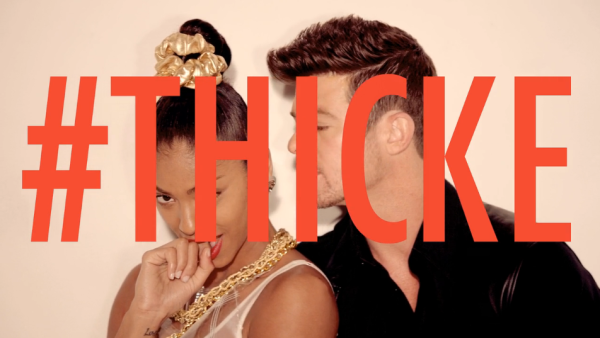 The hottest song of the summer also happens to be the season's most controversial hit. It's called "Blurred Lines"—surely you've heard it; it hit No. 1 on the Billboard Hot 100—and its music video, released in March, features three topless models dancing awkwardly in nude-colored thongs, ogled by a trio of fully-dressed men singing lines that the song's detractors have interpreted as sexist, misogynistic and "rapey."
"I know you want it," Robin Thicke, who wrote the song, intones alongside the rappers Pharrell Williams and T.I., guest artists on the record. In spite of a goofy, playful vibe, the video has stoked a digital firestorm of impassioned rants and musings. And yet the models who perform in the video (and until now have not been asked to give their take)—Elle Evans, Jessi M'Bengue and Emily Ratajkowski—say the perceived misogyny couldn't be further from the truth.
"Robin and Pharrell and T.I. were all nothing but gentlemen," Ms. Evans, 23, told the Transom, adding that Mr. Thicke brought his three-year-old son to the shoot. "There was never one inappropriate comment, not even a look."
In recent conversations, both Ms. Evans and Ms. M'Bengue expressed their surprise at how controversial the video has become. (Ms. Ratajkowski, who is traveling, was not available for comment.)
"The song is a summer song," said Ms. M'Bengue, who is also 23. "It's not supposed to be too deep."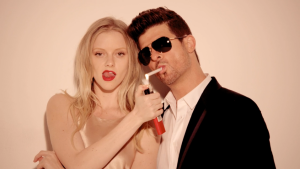 Ms. M'Bengue allowed that other people were entitled to their own opinions, but added: "While performing the video, I didn't believe that the lyrics were offensive to me at all. I understand the sexual innuendo, but I didn't feel the danger behind that."
Ms. Evans agreed. "Even though the lines were somewhat blurred [editor's note: no pun intended], everyone felt really comfortable," she said, "and it was a good way for people to creatively express their humor, you know? It's funny."
Mr. Thicke and the music video's director, Diane Martel–who also made the racy video for Miley Cyrus's "We Can't Stop"—have both weighed in in the song's defense, attesting to its levity. And the shoot does stand in contrast to Justin Timberlake's recent music video, which also features naked women. "Tunnel Vision," Mr. Timberlake's latest contribution to the summer lineup, is more dark and mysterious than "Blurred Lines," but the two videos do represent a kind of trend.
Ms. M'Bengue, who was born and raised in France, has, like the other models, participated in topless shoots before. She said that "we shouldn't be scared of our nudity—it's beautiful, it's empowering."
"My body is also a part of what I perform with," Ms. M'Bengue declared. "Everything is a product—a model is a product."
But would she have felt comfortable having performed completely nude?
"I don't see the benefit of showing my little pearl—let's call it that—for the purpose of a music video," Ms. M'Bengue laughed. (Ms. Evans seconded that notion.)
But full nudity was never proposed. Ms. M'Bengue explained that the "Blurred Lines" video shoot was "absolutely professional." Those not participating were asked to leave the room when topless scenes took place (a separate video, in which the models are clothed, was also filmed).
Controversy or not, Ms. M'Bengue concluded that the shoot was just one day in the life of a model. "We are hired entertainers," she told the Transom. "It's a job, and we try to do it well. After that, I'm onto the next job."
Indeed, all three models have moved onto other projects. (In a recent photo shoot for GQ Turkey, Ms. Ratajkowski appears topless.) Still, we wondered: Did the song, which they must have heard hundreds of times in rehearsal, stay with them?
"I always get it stuck in my head when I try to go to sleep at night," Ms. Evans admitted. "I could listen to it all day."
Ms. M'Bengue was of a different mind. "I can't listen to it anymore!" she exclaimed with a laugh.