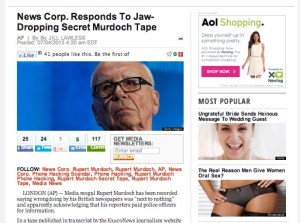 Yesterday, after news of Rupert Murdoch's secret tapes dismissing the wiretapping scandal during a meeting with the staff of The Sun spread around the Internet, News Corp. released a statement in an attempt to minimize the news.
Mr. Murdoch "has shown understandable empathy with the staff and families affected and will assume they are innocent until and unless proven guilty," the company said. 
Well, the Associated Press wrote a story about the response with the measured headline "On tape, Murdoch slams police investigation." The straight news story and headline were picked up by most organizations. But not The Huffington Post. Perhaps eager to get some traffic during a slow holiday week, HuffPo ran the wire service's story with a more click bait-y headline: "News Corp. Responds To Jaw-Dropping Secret Murdoch Tape."
Consider our jaws dropped. (And we also couldn't help noticing the hard news stories to the right — the two "most popular" HuffPo stories are "Ungrateful Bride Sends Heinous Message To Wedding Guest" and "The Real Reason Men Give Women Oral Sex?") But not to worry. Whichever headline you click, it's still the same story.