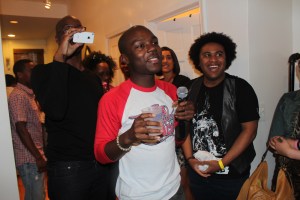 "I was walking and just minding my black-ass business," burst Kid Fury in a familiar cadence that you can't believe isn't coming from your computer screen.
It was late, but Fury was far from sleepy. He was talking about the first time he was recognized in public. "Some girl came up to me like, 'Umm, don't you do YouTube videos?"
It happened at Brooklyn Museum's First Saturday dance party in 2010, when Fury, a Miami native, was just barely Kid Fury. "I was like, yeeeeeeah. She was like, 'Oh, I've seen them, you're funny!' I was like, 'Thank you!' It was just kinda weird. So I was like, wow, that was cute. Then I went upstairs to the actual party, and it happened four more times. I just was like, maybe all these people are friends. Like, maybe they all just go to the same school and this is just something they do on campus. It didn't start happening more after that until I did more and more videos."
Since he launched his alter ego, Fury's YouTube videos of witty commentary and pop culture observations have been viewed over 10 million times. His podcast The Read is the unlikely flagship of the Loud Speakers Network, and in its first week, it climbed to the No. 1 comedy podcast on iTunes.
People recognize him everywhere; an occurrence he's still getting used to. "I always say something almost all the time that people think is funny, and I'm either dead serious or I don't think it's funny. Sometimes I'll meet someone and they'll be laughing their ass off. So I'm, like, okay, well, I guess you got the experience you were looking for, 'cause I don't know what do. But I appreciate it because it's so sweet."
Fury was created 8 years ago. The man behind KF is 25. He likes to say that he "started Kid Fury" at 17 like one "starts" a game of, say, Candy Crush. As Fury, he embodies Black Twitter's cutting wit, its maniacal devotion to popular culture, and because these are his two loves, he is a kingmaker in its irreverent, GIF-y, anxiety-ridden virtual culture.
It's a culture that is thriving but has only just begun to penetrate non-black consciousness, partly because of its role in torpedoing an alleged book deal by a juror on the George Zimmerman case. Kid Fury is followed on Twitter by Missy Elliott and the actress Lauren London. "He's like Black Twitter's Eddie Murphy," said Jamilah Lemieux, the lifestyle editor for Ebony.com.
Take the story of the sudden emergence of his partner and close friend Crissle: they met by exchanging witty 140-character messages, eventually agreeing to meet in person at the home of a friend of Fury's in Atlanta on New Year's Eve 2011.
"I started following him because I really liked his blog and I thought his tweets were funny. After a while he followed me back, and I don't really know why." That night, they hung out with Miss Jia, who runs a gossip website of her own. Crissle and Fury hit it off and became best friends. She was the main reason he finally got to New York. "If you never pick a date, you're never going to fucking move," she told him. He arrived last December.
When producers of the Loud Speakers Network asked him to do The Read—producers' eyes lit up in February of this year when Fury reluctantly and hilariously held forth about porn and sex on the podcast The Reality Check—they imagined pairing him with Freshlina, who runs the gossip site Crunk & Disorderly.
"That's actually the blog that inspired me to blog," explained Fury. "I just loved the way that Fresh wrote. I loved her humor. I met her once and she was awesome." Once was not enough: he'd do The Read on the condition that Crissle was his co-host. Said one producer: "Within five minutes of the first podcast, you could just tell that they had it."
There is no nontraditional medium growing faster than the podcast. Comics Marc Maron, Jay Mohr and Adam Carolla have all used podcasts to launch empires.  Last year the Nerdist Industries behemoth was acquired by Legendary Entertainment, which produced 300, Inception and Batman Begins; it began as a single podcast of the same name by the actor and comic Chris Hardwick. Earwolf podcast network founder Scott Aukerman and co-host Jeff Ullrich began the Comedy Death-Ray Radio podcast in 2010, and in one year they announced a partnership with the web-based viral video sensation Funny or Die.
Loud Speakers, founded by hip-hop attorney Reggie Osse
(a k a Combat Jack)is a relative newcomer to the space, with nearly 240,000 subscribers. But there is already considerable interest in its programming by advertisers.
Said Mr. Osse: "There're so many people doing podcasts, it's kind of hard to separate yourself from the pack. Unless they're huge celebrities. Fury had a sizable YouTube following, but they've proven the exception to the rule. He's even shaken up the industry a little bit, I would say."
Fury was suffering from an acute case of senioritis when he caught the media bug and seized on an opportunity, becoming involved with his high school's in-house programming. "We were like on this little TV show that that focused on sports and school news—and obviously I hated both those things."
Instead, Fury suggested the show cover entertainment and pop culture. "My teacher was, like, 'Okay girl, go for it, but you gotta do it by yourself.' So every day on the morning show, I would talk about whatever. And that was the part that influenced me to start blogging."
Fury didn't go to prom, football games or the senior breakfast. "I was still very socially awkward, and there was a part of me that felt that people didn't want to hang out with me. You hung out with me at school because we're at school, and it's like, we have to be here, we might as well be cool. I really didn't think people wanted to go to the mall or a party with me, even though most of those people probably would have been perfectly okay hanging out with me. But the way that I was feeling about myself, I just went to school and had a good time with my little circle of friends and then I went home and that was it."
One of his first videos, "Shit Black Gays Say," has garnered more than 1.5 million views on YouTube. "I didn't see any for black gays, so there you go," he wrote to readers on his blog.
His own coming out was not so simple: Fury's family is from Saint Catherine, a parish in southeast Jamaica that is home to a sustained and mostly unapologetic history of homophobia. His family settled in Miami, where Fury grew up. Fury came out to his friends when he was 17, but he didn't discuss his sexuality with his family until September 11, 2011; he doesn't disclose what happened, except to say that his parents found out.
"Everyone know that for Jamaican people, when it comes to homosexuality, it's a no," Fury said. Already, though, Fury is something of a cultural hero—and yet he bristles at attaching his sexuality to the things he does in media. "If that happens, you don't go anywhere past that. So you're just going to be on Logo, be on whatever gay magazine, and you're going to be at Pride and that's it. I don't feel like that's fair. That's not what I signed up for."
There is one part of being a visible face of the gay community that he particularly enjoys. "I like that people that are in the gay community, whether they're closeted or on the down low, that look at me as someone who is open who they can be inspired by. It sucks growing up like this. It's horrible. It's so bad. A big part of me, being the way I am today and thinking the way I do, is because I was so heavily picked on because of my sexuality. Now I just don't give a fuck."
On his ask.fm account, Fury took a break from sardonic answers to give advice about how to handle one reader's confusion about a child's sexuality. "Wait for him," Fury wrote. "That's something that he needs to come to terms with on his own. It can be a very difficult place to be mentally and emotionally, and confronting him might make it worse. Leave him be. It's none of your business anyway."
His voice beginning to tremble, Fury said he once contemplated suicide. "It was that bad. So when I see younger people and they're going through it, I tell them it's so bad. But it gets soooo good. If I'm one of them, great, but I love that there are people who young people can look up at and go, okay, I'm going to stick this shit out for a few more years, then I'm going to be everything. I love that part. When I think about being a face of the gay community, that's the part I like about it."
If you are a fan of Fury's and you are reading this, it is likely because you came for Fury's real name. That he's unwilling to share. And he would like you to know that it is none of your damned business. In Miami, Fury was bartending at a gay bar called The Vault. The owner told Fury his services were no longer needed and replaced Fury with his friend. Fury says he called the health department and they shut the place down.
In a way it was the end of his life in Miami and the beginning of the rest of his life as Kid Fury, and that's why he protects this new identity. It is perhaps for this reason that, without blinking, Fury can recall the day he started his blog: June 4, 2006. "It's like my thing … that's when I started Kid Fury." The "started" thing again. "So I had to give my blog a birthday. I know that every June 4, this is the day. It's another day, and it's another year."
editorial@observer.com