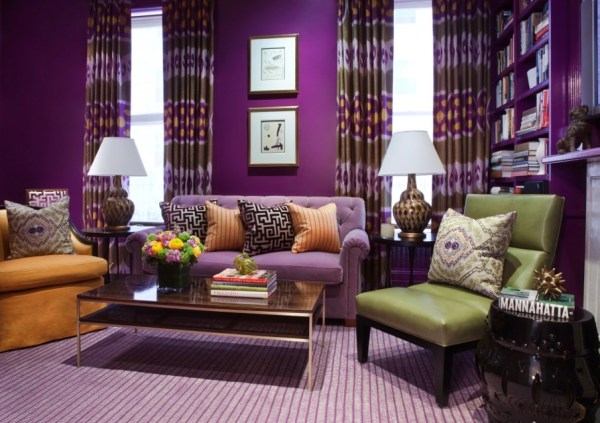 For years men have been disappearing into "man caves." There, they've  watched baseball games, played poker and drank scotch. But if men need a room to retreat to when they want to pretend to be Don Draper, women need one where they can pretend to be Joan Harris. It's time for ladies to have their own sanctuaries. Forget anything as simple as a walk-in closet. It's time for the woman cave. They're not just a place to get dressed or try on shoes. They're a place to be the kind of woman you always dreamed of being when you were a kid.
And it's a dream that has turned into the latest interior design trend.
Melanie Charlton, CEO and Creative Director of the closet customization and design company Clos-ette, says, "More and more square footage is being allocated to women's dressing rooms in New York City. From client to client and even in development and design work, the majority of my projects are becoming more about the female and her own space. Most women in New York City want a walk in closet and want to put a desk or a chair in it, too. It's all about luxury and abundant space."
Whether it is a vibrant, purple library in an Upper East Side townhouse or an elegant 1930's inspired bathroom, these "women caves" each represent their owners' personalities. They embody femininity, luxury and sophistication and independence.
The Siren's Lair
This bathroom by Claudia Giselle might well have designed for a 1940's starlet. Rita Hayworth seems like she could be hiding slightly off camera in a bubble bath, awaiting a call from Prince Aly Khan. Why shouldn't the modern woman be just as glamorous? The serene cream and gold colors offset by a bold black ceiling – and the sense of light and open space reinforced by crystal sconces and lamps – screams "elegance" (but softly, like a lady).  You'll just need a negligee, some bubble bath and a romantic relationship with someone titled to complete the scene.
Professional Glamour
Working women in New York live in their offices, so why shouldn't thee office have a chandelier? This spacious sun-lit space by Nichole Loiacono balances feminine comfort with all the demands of a busy office. There are plenty of feminine touches, like floral pillows and candles, but this is also a clearly functional workspace. The freshness and airiness of pink, subtle purple and white are offset by the crispness and contrast of black accents including a prominently displayed logo. The table offers a fine meeting area while the couch may be conducive to marathon brainstorming sessions.
Grape Expectations (Top)
It's okay to be a grown-up, sophisticated woman about town and still have a favorite color. In fact, you should own that color. You're an adult. You can do that. This library by Amanda Nisbit makes liberal use of purple (check out the inside of the bookshelves!) while interspersing it with occasional dashes of orange and green. Remember: this is your room, and it can be whatever color you want it to be.
 Downtown Drama
Want to time travel back to a Studio 54, circa 1977? You can't. You probably can't even visit Paris Hilton's modern day "nightclub room." But with hot pink chairs and cool black tables you can at least feel like a legend in your living room. This nightclub inspired living and dining space by Amy Lau may be the most fabulous spot in town. Despite all the evening glamour, this room still capitalizes on light with polished floors and reflective surfaces. Here's hoping you have a Halston dress ready.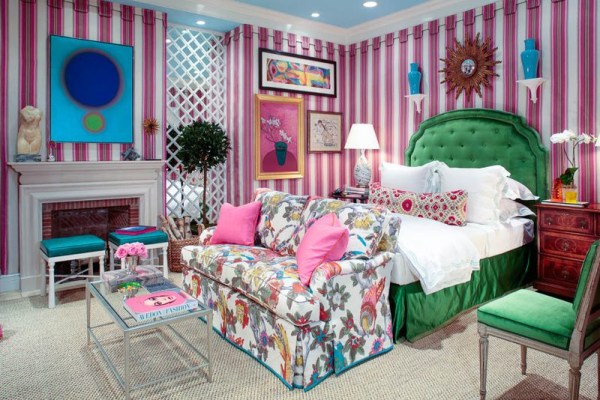 Acid Prep
The spirits of Jonathan Adler and Lilly Pulitzer seem to have come together to create this bedroom. Yes, you can combine pink and green! And while you're at it, latticed mirrors, and stripes, and florals! Designer Nick Olsen has created a space so cheerful that even a typically reserved Upper East Side WASP would want to jump on the bed (and the tufted headboard should help minimize injusries)..