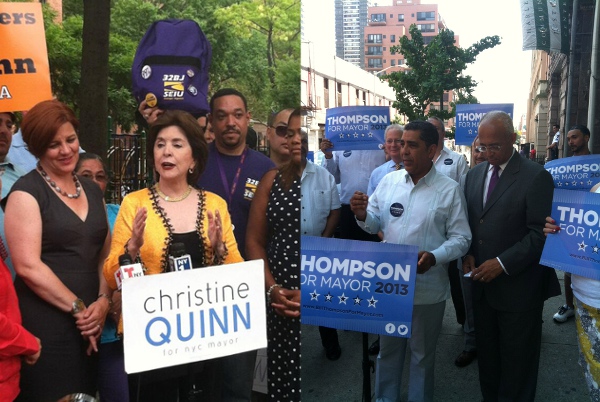 At the height of a blistering heat wave that pummeled the city two weeks ago, City Council Speaker Christine Quinn stepped from a black SUV that lingered near the sidewalk just long enough to let its precious cargo leave. The former governor of Puerto Rico, Sila María Calderón, draped in a regal gold jacket, had flown from San Juan to join Ms. Quinn and formally endorse her for mayor of New York City.
Once inside a larger recreational room of the Bronx's Andrew Jackson Senior Center, filled to the brim with primarily Hispanic seniors, the pair of female politicians were announced like the Rolling Stones gracing the stage of Madison Square Garden.
"We have the first woman who was the governor of Puerto Rico and we have the first woman who is going to be the mayor of the City of New York," Assemblywoman Carmen Arroyo declared, drawing uproarious applause.
"I think having support in the Latino and Hispanic community is critical, central to winning the Democratic nomination and winning the mayor's office," Ms. Quinn told Politicker in an interview a week later, after a string of seemingly nonstop visits to Hispanic senior living centers, policy proposals addressing immigration issues and appearances on Latino media outlets.
Hours after the conversation, her campaign unveiled "Latinos Unidos con Quinn," a list of more than 500 Latino endorsers. Before that, she had released "Nueva York 2014," a "comprehensive Spanish-language guide to Chris's record of delivering results for the city's Latino communities." A Twitter account, "@LatinosConQuinn," touts her accomplishments in Spanish on social media. And as July approached its final weeks, the crippling heat wave subsiding in favor of cloudy temperate skies, Ms. Quinn did not let up on her intense focus on the city's Hispanic electorate.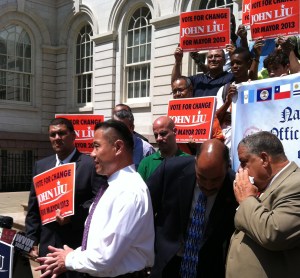 She wasn't the only one racking up an increasingly long list of Latino-oriented events, either.
During the week of Ms. Calderon's visit, former Comptroller Bill Thompson rolled out an endorsement from Fernando Ferrer, the 2005 Democratic nominee for mayor, at an event announcing "new efforts to help grow Latino small businesses." Public Advocate Bill de Blasio defended an anti-racial profiling bill with Councilwoman Melissa Mark-Viverito and Assemblyman Luis Sepulveda at his side. And everyone from former Congressman Anthony Weiner to longer shots like former Councilman Sal Albanese vowed to stop by a salsa festival in El Barrio featuring stickball. The list goes on and on.
Latino voters have never been seen as more important. On the heels of a presidential election where their vote was considered a decisive factor, the group is expected to play a larger role than ever before. In the 2009 mayoral race, exit polls showed 21 percent of voters identified as Hispanic. The National Institute for Latino Policy reported that this number is expected to climb to nearly 30 percent for this year's Democratic primary–placing them roughly on par with African-American participation
At this point, though, there is no outright winner among the throng of Democratic candidates. The Latino polling numbers mirror whoever is leading overall—Ms. Quinn is ahead, for now—a correlative relationship that is fluctuating week by week, especially in the aftermath of Mr. Weiner's cringe-inducing re-scandalization.
"They're divided; they're all over the place supporting different candidates," Angelo Falcón of the National Institute for Latino Policy told Politicker. "We have something that is different from years back, the last couple of elections. It's very more reminiscent of how things used to be a long time ago in New York City."
There are actually two Latino mayoral contenders. One, former Bronx Borough President Adolfo Carrión Jr., dropped out of the Democratic Party altogether and is campaigning for Gracie Mansion on the Independence Party's line—an uphill battle, but one that will be decided after the September 10 Democratic contest. (He's also been enjoying some rare attention from the mainstream media, including very favorable mention of his transit proposals in the Times.) The other is the conservative Reverend Erick Salgado, whom Mr. Falcón referred to as "the comic relief in the debates," cracking Carlos Danger jokes with the best of them.
Mr. Thompson seems to have made some of the biggest headway in at least securing key endorsements, encompassing both Dominican and Puerto Rican backgrounds that the vast majority of Latino voters will also share.
Northern Manhattan State Senator Adriano Espaillat's backing was rolled out at the start of the month. "I think that people know him," Mr. Espaillat, the most prominent Dominican-American pol in the city, told Politicker. "They refer to him as the guy who almost beat Michael Bloomberg. They remember him." "When I'm with Billy Thompson, especially in the Bronx, whether it's the black community, the Latino community, there's a certain level of enthusiasm that is not reflected in the polls that we're seeing now," Bronx Borough President Ruben Diaz, a top Puerto Rican official, concurred.
Although it's still far from clear whether Mr. Thompson will indeed rise to the top, if Ms. Quinn's lead holds, Mr. Weiner regains his footing, or if Mr. de Blasio will start clicking, interest in the Latino vote has unquestionably shifted the policy dialogue in the campaign.
Although it's still far from clear whether Ms. Quinn's lead will hold, interest in the Latino vote has unquestionably shifted the policy dialogue in the campaign.
Two weeks ago, Ms. Quinn unveiled a plan to spend $18 million over the next two years to help ensure that undocumented immigrants can acquire legal jobs and get driver's licenses. Mr. de Blasio has proposed a citywide identification card program, something John Liu staunchly opposes as "a separate and unequal system" that doesn't go far enough. Mr. Thompson has unveiled a "Big Apple-Big Dreams" initiative to provide financial aid for undocumented students. And the candidates, who often pepper their debate performances with Spanish phrases, have vowed to continue the current mayor's practice of making official announcements in both English and Spanish.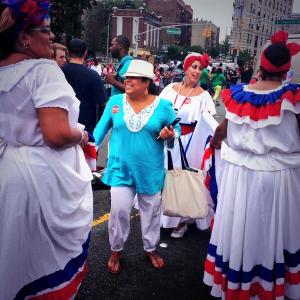 So the courting continues. Last Sunday, many of the candidates marched in the Bronx's Dominican Day Parade.
The street was filled with a sea of tricolored Dominican flags, waved feverishly to the rhythms of reggaeton and Spanish music blaring from car and parade float speakers. Everyone from Ms. Quinn—wearing a sash across her bright pink blouse—to Republican candidate John Catsimatidis, waving from the top of his own parade float, showed up on the rainy afternoon.
But as they marched up Grand Concourse Boulevard, supporters and signs in tow, the crowd seemed generally unmoved by the candidates; excited to be outside enjoying the day and the music but ambivalent to the individuals fighting for their votes.
As Mr. Liu walked along the parade route, passing out literature and giving handshakes, observers greeted him and his team of megaphones with socially required niceties, but not much more.
Joshua Batista, 31, one of many on the sidelines, remained unswayed by the overzealous efforts of the candidates. He said he hadn't yet decided who had his vote.
"It's crunch time. Seven weeks," he noted. "They're going to try to put their best out there. They're going to try to see what they can do. What can they entice us with?"