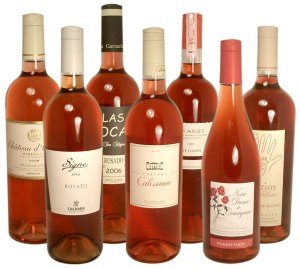 It's summer, which means that it is officially rosé high season. And over the years, The New York Times has devoted a lot of ink to the warm months when it is socially acceptable (indeed, even encouraged) to sip the pink-tinted wine. Just today, the paper of record ran a story by Eric Asimov titled "Rosé: In Demand, but Not Demanding." Which is great, because some alcohols just ask too much!
"A lot of people drink rosé more as a state of mind than anything else," said one of the tasters in today's article.
In 2007, Mr. Asimov wrote that he was in need of "rosé therapy." Happily, the wine critic seems to have gotten the help he needs to overcome his "rosé  reluctance." Today, Mr. Asimov confesses that he himself enjoys a "rosé state of mind." Hey, who doesn't?
Certainly not the Times.
"Summer and rosés go together," the Times boldly proclaimed in 1963.
In a 1988 article, longtime Times wine columnist Frank J. Prial (he retired in 2004) responded to the allegation that rosés are boring. "Of course most of them are boring," Mr. Prial wrote. "But so are a lot of other things—like half the people you know—if you take them too seriously."
In 1992, Mr. Prial called it "a very democratic wine" in a dispatch from France, although the wine critic noted that it was not popular stateside. "Americans don't drink rose, not in any quantity," he explained. "To them, it's a youthful indiscretion, conveniently forgotten. Like colonial furniture, it's a taste, they think, for people with no taste."
A year later, Mr. Prial again compared the pink beverage to colonial furniture: "Someone once said of colonial style furniture that it was in neither good taste nor bad, but in no taste at all. Rose wine long endured a similar reputation."
But unlike colonial furniture, that reputation did not last. Eventually, rosé got cool. Chilled, even.
In 2009, Mr. Asimov reported that the flirtation with the beverage had morphed into something more. "This thing with rosé has evolved into a long-term relationship that shows no signs of fading."
"Few wines are both as beloved and belittled as rosé," Mr. Asimov declared in 2010.
That same year, the Times Style section called it "the drink to be seen with" and reported on "club-hopping hipsters and tastemakers, who lay in a stash of rosé for parties and ask for it when out on the town" (and in Montauk).
Where can one enjoy rosé? Anywhere! Everywhere! But basically while on the platonic ideal of a vacation.
"Rose wines are for blue water, white sand and limitless skies," Mr. Prial wrote in 1988. "For a terrazza at Portofino, the Croisette at Cannes or a deck at Malibu. They are for easy, lazy times of trashy novels and silly clothes, when deciding on lunch is a major effort. In such a delightful, torpid state, who can worry about the wine?"
"A good rosé, at a lunch outdoors, preferably seaside or at least poolside, or even on a terrace, at a sidewalk table or on a tar-paper roof, will transport me to Provence as quickly as you can say Brigitte Bardot," Mr. Asimov wrote today.
"It used to be that when warm weather rolled around, critics would try to talk up the virtues of rosé as a wine that deserved a place at the table, better yet a lunch table, best of all a lunch table outdoors, near the water, with pale blue skies, the smell of the sea and whitewashed walls thrown in for atmosphere," he wrote in 2009.
But we have to be realistic:
"It seems as if everybody else this summer is sitting by the pool, or dining at sidewalk cafes, or picnicking on rooftops (this is New York), and they all are loving their rosé wines," Mr. Asimov wrote in 2007.
To be honest, we have only begun to wade into the Times's rosé coverage. But we are getting thirsty and are ready to be transported to a magical land by a democratic, not demanding, not serious, boring, beloved and belittled beverage.
Who has a corkscrew?