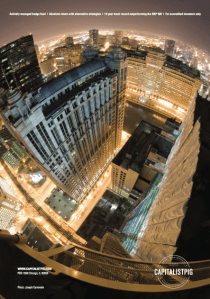 The Securities and Exchange Commission voted yesterday to let hedge funds advertise to the general public, and hedge funders are cheering—none more so than Jonathan Hoenig.
Mr. Hoenig, an outspoken Objectivist—a follower of Ayn Rand's philosophy—and the manager of Capitalistpig Asset Management, believes the SEC's restrictions on hedge fund advertising were unfair.
"For 80 years, pornographers, cigarette companies and firearms manufacturers could advertise, but not hedge funds," he told The Observer in an email.
Hedge funds have been prohibited from advertising to the general public since 1933. While mutual funds—which are registered with the SEC—are allowed to run ads directed at the general public, private hedge funds are only permitted to communicate with those investors with whom they have a "pre-existing relationship."
That restriction, Mr. Hoenig believes, has led to hedge funds' public image as secretive and risky.
"Not only was [the restriction] a direct assault on free speech, but it's been the source of hedge funds' notoriously "exclusive" and 'elitist' reputation: They're exclusive and elitist not by choice, but by government edict," he said.
Mr. Hoenig obviously has a flair for the dramatic. His fund's website sells a Wall Street-themed video game alongside Nazi coins, which are labeled "collectivist currency." (A portion of those proceeds are donated to the Illinois Holocaust Museum & Education Center.) Last year, his Capitalistpig Hedge Fund became the first fund ever to run an advertisement, with a full-page ad in Crain's Chicago Business. The fund also placed ads in The Objective Standard, a quarterly journal of Objectivist philosophy. Of course, these ads were technically illegal, but the SEC ignored Mr. Hoenig's civil disobedience.
"I heard nothing [from the SEC], but of course was concerned," Mr. Hoenig said. "It's a sad commentary on our mixed economy when a productive business has to worry about government's coercive response to simply running an advertisement and exercising the right to free speech," he added.
Not everyone is thrilled that hedge funds can now exercise their "free speech." Heidi Moore, The Guardian's financial and economics editor, is skeptical of the SEC's decision. "The thinking behind that old rule [prohibiting hedge fund ads] was obvious: if Wall Street, with its sophistication, has direct access to the money of unsophisticated people, it will likely end in tears," she wrote in a column.
Mr. Hoenig, meanwhile, thinks the SEC's decision doesn't go far enough. While hedge funds are now allowed to advertise to the general public, they are still only allowed to accept investments from "accredited investors." For a person to be an "accredited investor," they must have a net worth of more than $1 million or an annual income of over $200,000. Mr. Hoenig believes this restriction should be lifted.
"There is no moral justification for not allowing people to invest their own money as they see fit," he said. "For government to let certain groups of people invest while denying the same right to others isn't just discrimination, it's tyranny."