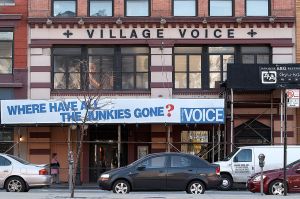 Tom Finkel has been named the new editor of The Village Voice, the alt-weekly announced this morning. Mr. Finkel, who will replace Will Bourne, who quit the paper in early May rather than lay off staffers, comes to the beleaguered downtown paper from Voice parent company Voice Media Group's Riverfront Times in St. Louis.
"Tom understands our media business at a high level," Voice Media Group executive editor Christine Brennan said in the announcement. "He has been one of our most progressive editors in balancing print and web journalism. I know I can entrust the Voice to him, and that he'll do great work there."
"The Village Voice is the quintessential reflection of New York culture," Mr. Finkel said. "My parents had deep roots there — my father grew up in the shadow of Yankee Stadium, my mother on Riverside Drive — and I'm thrilled at the prospect of my family putting down roots of our own."
Included in the announcement were news of other hires from Voice Media Group papers. Albert Samaha, Tessa Stuart and Anna Merlan all joined the downtown paper as staff writers earlier this month.
The news comes on the heels of layoffs earlier this year: nightlife columnist Michael Musto, theater critic Michael Feingold and food critic Robert Sietsema were all let go in mid-May.