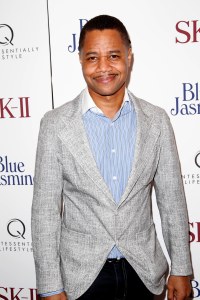 Blame it on the rain, but Shindigger lacked great motivation to hit the town last Monday night—even for the screening of Woody Allen's new release, Blue Jasmine. The director was somewhere on the Côte d'Azur, we reasoned, so why should we bother?
Nonetheless, Shindigger worked up our party-boy spirit in time for the after-affair at Harlow, restaurant au courant, which was once again beset by dozens of stars, including Cate Blanchett, Peter Sarsgaard and Alec Baldwin, funny people Louis C.K., Amy Poehler and Andrew Dice Clay, and a bevy of other well-knowns, such as Solange Knowles, Jenna Lyons and Zosia Mamet.
Needing a social lubricant, we slithered up to one of the bars and sipped on a pinot noir with screenwriter Danny Strong and producer Barclay DeVeau, chatting about scripts, summer fun and, of course, Mr. Strong's upcoming Lee Daniels' The Butler—name change and all.
Moving on, we milled through the crowd, stopping for chats with Adrian Grenier, who told us about his favorite Woody Allen flick, Deconstructing Harry ("It's fucking hilarious!"), and Mr. Clay, who explained where his love of leather began ("The Elvis Comeback Special was a great inspiration").
Toward the end of the night, Shindigger elected to have a nightcap with Cuba Gooding Jr., who was enjoying the evening's numerous libations.
"It's been magical, magical!" he exclaimed about his Broadway hit, The Trip to Bountiful, which has been extended.
But Shindigger wanted more juice on The Butler.
"What was the most exciting part of the project?" we demanded.
"Lee Daniels," he said without hesitation. "To be able to create a character that actually lends itself to the lighter side of such heavy material—I mean, it's a social study of a White House butler through eight presidencies."
"What about all the title drama?" Shindigger pried.
"Now it's called Lee Daniels' The Butler," Mr. Gooding explained. "God did that for a reason."
As he began to sip another drink, we asked the actor what it was like to work with Oprah.
"I don't know if it's Best Supporting or Best Actress, but she's getting nominated," he said of next year's Academy Awards. "Cate Blanchett—she's definitely getting nominated for Best Actress. But she might have some problems if Oprah's in Best Actress."
Just then, last call was announced, and a server approached Mr. Gooding.
"I thought I'd bring you a special drink," she said.
"What is that?" Shindigger asked of the amethyst-colored potion.
"It's a special drink," she smirked.
"It's ant urine," the actor chimed in. "It takes a year to pour this thing. You ever see them milk an ant? It takes a year to milk an ant!"
"Ant urine?" we asked.
"That's all I'm going to say about it."
"It's curaçao," the server interjected, leaving Mr. Gooding with a drink in each fist, just before a Sony Pictures bigwig cut off our boozy discussion.
"I gotta jump in here," he said. "You've talked to this guy enough!"
And so we said our goodbyes.
Later in the week, the rain returned as we trekked from Manhattan to Art Southampton's VIP preview. Besides the drizzle, there were construction delays, accidents, the works! Route 27 was reeling from a collision outside the Elk's Club. Was there not a better way to get to the East End, we wondered?
"I used to fly," Vered Gallery co-owner Janet Lehr told us at her booth, which boasted an impressive Milton Avery work from 1955 that has been featured in both of his retrospectives. "But then I would get weathered in, and then I had to go on a Jitney or something like that."
Nowadays, Ms. Lehr sticks to the bus no matter how bad the gridlock.
"The computer battery lasts forever! I'm prepared to do my thing quietly on the Jitney," she said. "I've allocated my time."
On the positive side of things, she reported that the fair opening had been "more than busy, more than I dreamed it would be! And it's compounded by the fact that there's a big traffic accident outside."
Before Shindigger could head for a glass of Perrier-Jouët champagne, we had to hear about one of her favorite pieces on display.
"The Willem de Kooning cut-out is a knockout," she enthused. "It's a unique piece and unique conceptually."
Galleries such as Edelman Arts Inc. and Jerald Melberg Gallery also voiced their contentment with attendance on opening night.
"The night proved that a quality fair turns out a quality audience," commented Art Miami/Art Southampton director Nick Korniloff. "It is clear that Art Southampton has filled a void for the most sophisticated tastemakers and culturally savvy audience in New York."
Things were decidedly winding down when Graff Diamonds started packing up its millions of jewels from a display area surrounded by a swarm of armed guards. Still, Shindigger was thinking about life in the slow lane when we bumped into Jean Shafiroff.
"I started on the 2:35 p.m. Jitney from 69th and Lexington," said Ms. Shafiroff, standing beside her friend Iké Ude. "We arrived at the Omni at about 6 p.m., and then I had to pick up a rental car from Enterprise."
Long story short, Ms. Shafiroff had also endured a seemingly never-ending journey, and now there were only 20 minutes left in the party. "We just arrived!" she giggled.
So what was her escape plan, we wondered?
"The Jitney!" replied Ms. Shafiroff, somehow unfazed.
"By magic," smiled Mr. Ude.
A boy can dream.